Today, Andrea Lythgoe, LCCE and doula, takes a look at the peanut ball as a tool for promoting labor progress for women resting in bed or with an epidural. Many more facilities are making this new tool available to laboring women. Childbirth educators will benefit by understanding how to teach peanut ball use to families in the classroom and those professionals who attend births will want to know about the benefits and proper usage as well. Andrea shares the research that is available along with the personal perspectives of those who have used them firsthand. - Sharon Muza, Science & Sensibility Community Manager.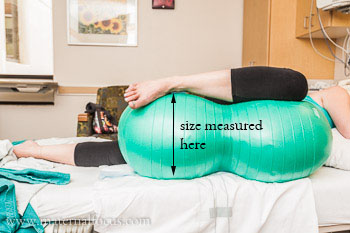 Most experienced peanut ball users recommend either the 45 cm or 55 cm sized peanut ball. The size is measured from the floor to the tallest point on one of the larger ends. Because it will be used between the legs to open up the pelvic outlet, you don't want it to be as large as the balls that are used for sitting and swaying. As I learned about the peanut ball, I found that many moms who did not like the peanut ball in labor felt it was too big. For this reason, I chose to purchase and use the 45 cm sized ball, which is the size used in the photos that accompany this article.
The peanut ball is most commonly used when mom needs to remain in the bed, whether because of epidural use, complications, or simply because mom is exhausted. There are two main ways in which peanut balls are used, with plenty of room for variation. The first is with mom in a semi reclined position, one leg over the ball, one leg to the side of the ball. The ball is pushed as close to mom's hips as is comfortable. As the ball can have a tendency to slide away from the mom, a rolled up towel can be used to hold it in place. This position seems to be most commonly used to promote dilation and descent with a well-positioned baby.
The second common use is with mom in a side-lying or semi-prone position, with the peanut ball being used to lift the upper leg and open the pelvic outlet. The ball can be angled so that the leg hooks around the narrower part, or aligned with both mom's knee and ankle resting on the ball. Mom's comfort level is key to knowing the right placement. Most women who used this position used it to help rotate a posterior baby to a more favorable position for delivery.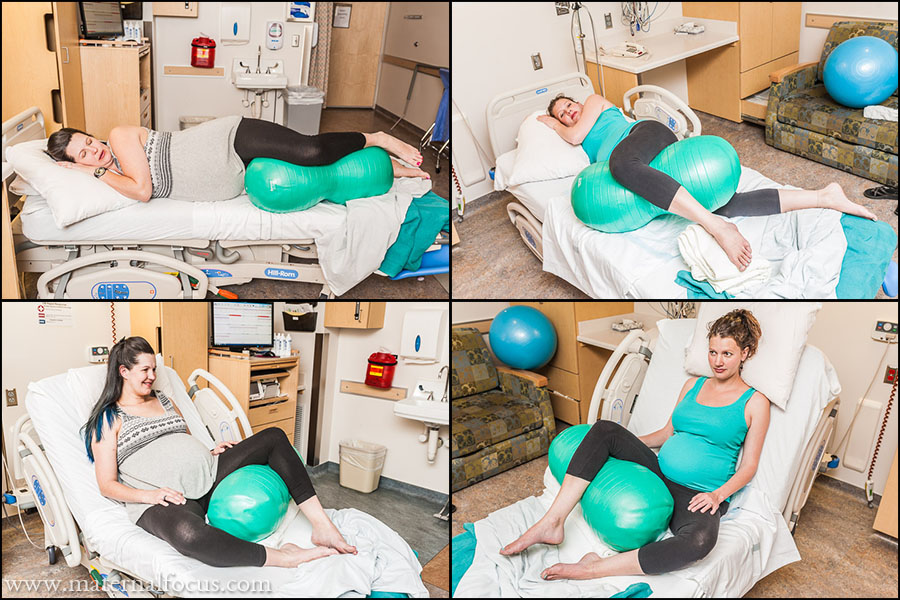 The Research
There is not much research out there on the use of the peanut ball. In my search, I found one study, presented as a poster presentation at the 2011 AWHONN Convention. Tussey and Botsois (2011) randomized 200 women (uncomplicated labor with an epidural) into two groups. One group used the peanut ball in either the semi Fowler's position (bottom photos) or the sidelying position (top photos), switching sides every 1-2 hours. The sample size was small, but the results were very promising. The first stage of labor was shorter by an average of 90 minutes, and second stage was roughly half as long (43.5 min in the control group, 21.3 min in the peanut ball group). The use of vacuum and forceps was also lower in the peanut ball group. There were no serious adverse events reported in the study. This looks very promising, and I will be watching for more studies on the peanut ball in future years.
Many have speculated that the more upright semi Fowler's position might also be helpful in preventing the increase in operative deliveries seen with epidurals (Anim-Somuah (2011), but a recent Cochrane Review found insufficient evidence to demonstrate a clear effect. (Kemp, 2013) A similar review looking at the benefits of upright positions in moms without an epidural did show some benefit. (Gupta, 2012)
Since it is known that babies in an Occiput Posterior (OP) position can increase the length of second stage and the rate of operative delivery (Lieberman, 2013; Caseldine, 2013) the reports of posterior babies turning when the peanut ball is used may be a big reason for its effectiveness.
The Mother's Experience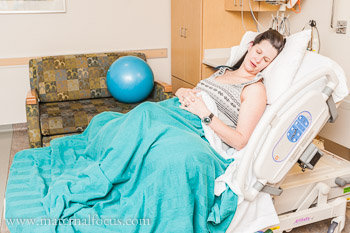 Jennifer Padilla, a mom who used the peanut ball in labor, described to me her experience with using the ball to rotate her posterior baby after 20 hours of labor. She had an epidural that did not take as well as she would have liked, and still found the peanut ball in the side lying position to be comfortable enough to take short naps. She said it took 1-2 hours with the peanut ball to rotate her baby, but that once the baby rotated to an anterior position, she was ready to push.
In preparing for this article, I read through over 30 online birth stories that included the peanut ball and noticed a few common themes:
Maternal Preferences and Positioning
Moms who were unmedicated preferred upright positions to the peanut ball nearly every time. Even when they used it and felt it was beneficial, the comments were not very positive. For example, one mom described it like this:
"Being positioned on the peanut ball was excruciating, I couldnt see straight and was howling in agony. I wanted to push it away and jump up but I could feel it working."
Moms with an epidural liked the peanut ball almost universally, except for a few instances where moms complained it "made their butt go numb" when using it in the semi-Fowler's position. Some commented that it was difficult to sleep when needing to switch the ball from side to side. Most moms described switching every 1-2 hours, some as frequently as every 20 minutes. (Women with epidurals usually switch side to side with the same frequency, even without the epidural.) One mom felt that using it semi-prone made her feel "undignified" and she wished her nurse had kept her covered with a sheet while lying in the position.
Some birth stories described moms leaning over the peanut ball, straddling the peanut ball, or using it in the shower in some capacity, but the vast majority used the ball in a side lying or semi prone position, with the reclined semi Fowlers a distant second.
Epidural Experiences
None of the moms who had an epidural reported any troubles with the epidurals losing effectiveness on one side while using the peanut ball, though several nurses I spoke with expressed concern that this would be a problem. More than a few moms who had an epidural said that they asked to stop using the peanut ball because of pressure in their back that turned out to be complete dilation.
Effect on Labor Progress
A few moms reported some pretty dramatic results:
A Doula's Perspective
I spoke with Heidi Thaden-Pierce, a doula and CBE in Denton, Texas. She has been using the peanut ball with her doula clients for a while now, and she says women are very receptive to the idea. Many of them have already discovered that sleeping on their sides with a stack of pillows between their knees is very comfortable. The peanut ball replicates this and doesn't slip and slide around as much as a stack of pillows can.
In her experience, most unmedicated moms will get up and get active in other positions over using the peanut ball, but "if a mom is needing some rest then we'll tuck her into bed with the peanut ball because it's comfortable and helps keep things in good alignment." She also will occasionally use it while mom is on the bed on all fours as a place to rest mom's upper body that is not as high as a regular birth ball. This can be nice if mom is more comfortable with her hips slightly higher than her shoulders.
Whenever I bring the ball to a hospital birth, I do explain what it is to the nurse and ask if there is any reason we should not use it. If a mom needs to labor in a certain position or there are concerns with the baby then I want to make sure that the peanut ball isn't going to be in the way. I think it's important that the mom's care team be aware of and comfortable with the use of the peanut ball, so I make sure we talk about it before we try it at the birth.
The L&D Nurse's Perspective
Carly Trythall, a nurse at the University of Utah Hospital in Salt Lake City, has worked with the peanut ball for labor in two different hospitals in her career as a nurse. She has mostly used the ball in the side lying position for helping to shorten labor. She said that most of her patients have been "accepting and eager" to try the ball and find it very comfortable. She finds that the ball is "most beneficial for moms who are not able to change positions frequently and utilize gravity (i.e. women with epidurals)."
The peanut balls are new to University Hospital; Carly was integral to introducing their use there, and she continues to work to educate patients and nurses about the balls and their use. Some providers have expressed a little resistance to their use, thinking it wouldn't be beneficial for moms, but as they have gained experience, that is changing.
The Childbirth Educator's Perspective - Teaching With The Peanut Ball
Because the effects of the peanut ball seem to be most pronounced in moms who use epidural anesthesia, teaching it in conjunction with epidural use seems the most logical. I teach techniques and support for moms with epidurals just after we learn the mechanics of an epidural and the benefits and risks of an epidural. This is where I recently integrated teaching about the peanut ball into my classes. Because I have a limited number of balls to work with (one peanut ball and one elliptical shaped ball of similar proportions) I can't have all the moms practicing with the ball at the same time. I break up the group into smaller groups of 2-3 moms and partners, and have the other groups working on other epidural support activities while each group has a chance to practice with the peanut. We allow enough time for every mom who wants to experience the 2 main positions with the peanut to try them. I warn them the week before to be sure they wear comfortable loose clothing that they will be able to freely move around in as we practice.We practice with mom trying out both of the main uses of the ball:
Semi-sitting position (Semi Fowler's) with one leg over the birth ball and one leg open to the side. In the absence of a hospital bed in the classroom, I use a traditional birth ball or mom's partner sitting against the wall for moms to recline against as we practice this position.
Side lying or semi prone with the peanut ball between the legs. We experiment with different positions to find a variation that is comfortable, reminding the parents that what they like now may not be the one they like in labor.
We also brainstorm possible ways to do these positions in the event there is not a peanut ball available.
Carly Trythall said that, as a nurse, she wished that women were learning more about the peanut ball in their classes: "I would like for moms to be taught the benefits of using a peanut ball during labor such as assisting with fetal rotation and descent by widening and opening the pelvis (great for OP babies), shortening the active phase of labor (because baby is in a more optimal position) and shortening the pushing phase of labor.
Conclusion
While there remains much to be learned about the efficacy and circumstances in which the peanut ball might be most useful, the peanut ball appears to be a promising technique for laboring women, in particular those who have a posterior baby and/or need to remain in bed. Teaching this technique in your childbirth class can help women go back to their care providers and birth places informed about another option that is becoming more and more widely available.
Are you teaching about peanut balls in your childbirth classes? Are you seeing the balls in use in your communities? Have you had personal experiences either as a birthing mother or a professional with the peanut balls? Please share your experiences and information in the comments below so we can all learn about this new labor tool to help promote vaginal birth.- SM
To learn more about peanut balls:
http://betterbirthdoula.org/peanut-ball-and-epidurals-tips-for-doulas/
http://www.cappa.net/documents/Articles/Peanut%20Ball.pdf
My thanks to the University of Utah Labor and Delivery unit for the use of their room for the photos included in this article.
References
Anim-Somuah M, Smyth RMD, Jones L. (2011) Epidural versus non-epidural or no analgesia in labour. Cochrane Database of Systematic Reviews, Issue 12. Art. No.: CD000331. DOI: 10.1002/14651858.CD000331.pub3
Carseldine, W. J., Phipps, H., Zawada, S. F., Campbell, N. T., Ludlow, J. P., Krishnan, S. Y. and De Vries, B. S. (2013), Does occiput posterior position in the second stage of labour increase the operative delivery rate?. Australian and New Zealand Journal of Obstetrics and Gynaecology, 53: 265270. doi: 10.1111/ajo.12041
Gupta JK, Hofmeyr GJ, Shehmar M. (2012) Position in the second stage of labour for women without epidural anaesthesia. Cochrane Database of Systematic Reviews, Issue 5. Art. No.: CD002006. DOI: 10.1002/14651858.CD002006.pub3
Kemp E, Kingswood CJ, Kibuka M, Thornton JG. (2013) Position in the second stage of labour for women with epidural anaesthesia. Cochrane Database of Systematic Reviews, Issue 1. Art. No.: CD008070. DOI: 10.1002/14651858.CD008070.pub2.
Lawrence A, Lewis L, Hofmeyr GJ, Styles C. (2013) Maternal positions and mobility during first stage labour. Cochrane Database of Systematic Reviews, Issue 10. Art. No.: CD003934. DOI: 10.1002/14651858.CD003934.pub4.
Lieberman, E, Davidson, K, Lee-Parritz, A, Shearer, E (2005) Changes in Fetal Position During Labor and Their Association With Epidural Analgesia. Obstetrics & Gynecology. 105(5, Part 1):974-982.
Overcoming the Challenges: Maternal Movement and Positioning to Facilitate Labor Progress.Zwelling, Elaine PHD, RN, LCCE, FACCE[Article] MCN, American Journal of Maternal Child Nursing. 35(2):72-78, March/April 2010.