Having a blog or articles of interest on your website that are available to your students, clients and potential customers is a win-win situation for a birth professional. A win for your clientele because they are provided useful information and news important to them on the topics of pregnancy, birth and postpartum. A win for you, because providing this information creates engagement and positions you as an expert and a source of evidence based information. Having useful content also increases traffic to your site. But writing this content takes time, requires research and can be very intimidating for some of us.
As part of our occasional series on building your birth business, I wanted to share a great service that the National Institutes of Health (NIH) Health and Human Services Division provides that can be a valuable time saver and help you to grow your business by increasing visits to your website and offering useful information to those who stop by.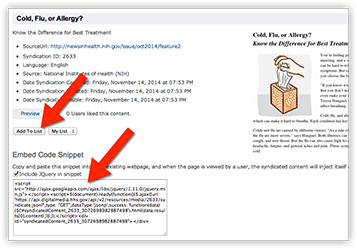 The National Institutes of Health provides free web content that is up to date, accurate and easy to read. Even better, NIH provides a simple system that allows you to embed (place insideyour website) content that you decide is important to your customer base.
Benefits of using the NIH Content Syndication Service
Material presented has the look and feel of your website
Content is updated automatically as new information or research is available, without any effort on your part
Time saving because you do not have to write personalized content
You can add your own thoughts and commentary
You control the topics, selecting only those you want to appear
You control the placement of the material on your site
Engagement and interaction occurs on your site, in the form of comments and dialogue
You can choose infographics, videos, podcasts and other multimedia offerings
Material is available in Spanish and in English
If you don't find a topic you are looking for, you can request that specific information be provided for future use.
Step by step instructions are provided on the NIH website
How to Add Free Web Content from NIH to Your Website will provide everything you need to know to get started. After you register, you can browse all the topics that are offered or search for a subset of topics relevant to you and your business. You copy and paste a small snippet of code into your website and after you publish, the new material is exactly where you want it. The options are endless, you can use this material on your resource page or even drip it out slowly as part of your blog. Best of all, this material is designed for you to use in this way. There are restrictions on using material from other sources, but this content provided by NIH is meant to be used in this way – and all the sourcing and credit appear automatically. You are also able to search for and use material from other sources in using the advanced search options.
Here is a topic I have embedded on toxoplasmosis and pregnancy for you to see how it works:
Why don't you give it a try! Place something of interest on your website using the NIH Content Syndication Service and then share the link in our comments section! Let us see how it looks! If you allow comments on your embedded article, I will try and leave a comment!