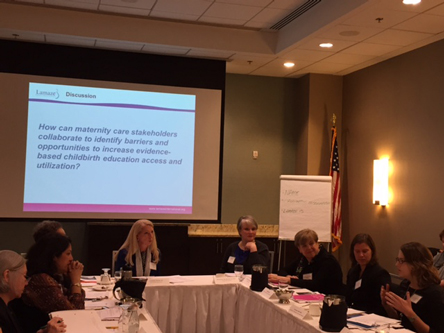 On Monday, December 7th, Lamaze International convened 13 representatives from government and healthcare organizations to its Roundtable in Washington, D.C. to discuss the role that evidence based childbirth education has in improving childbirth outcomes. The Roundtable provided participants an opportunity to learn about Lamaze's six evidence based Healthy Birth Practices and its initiatives to improve childbirth education access and utilization. Lamaze also released a policy brief, Evidence-Based Childbirth Education: A Key Strategy to Improve U.S. Childbirth Outcomes, which addresses the current access and utilization barriers to evidence based childbirth education.
The Roundtable provided a forum for health-policy experts and thought leaders to come together and discuss the current barriers to childbirth education and the effect that they have on childbirth outcomes. Participants took part in a series of break-out sessions throughout the day to strategize on ways to overcome these barriers and the collaborative steps necessary to improve childbirth outcomes in the United States.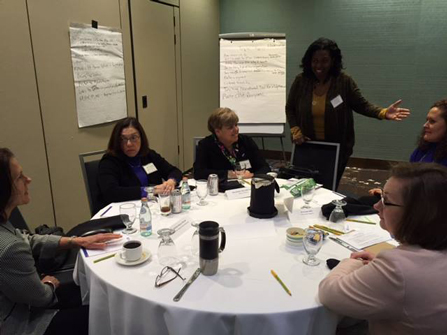 The exchange of ideas and willingness to collaborate was perhaps the most exciting aspect of the day. Roundtable participants spoke about the initiatives that their groups have underway to improve childbirth outcomes, which generated a lot enthusiasm toward partnering on current and future projects. In additional to learning from each other, the Roundtable created additional momentum to work together to tackle childbirth disparities and poor outcomes in the United States. As individual groups, we can do—and have done—a lot to work toward this goal. As partners, we can surpass this goal.
Participants in the Roundtable included representatives from: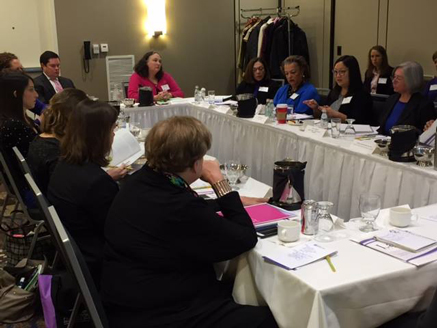 Look for more information about the Roundtable discussions and a synopsis of the day from Lamaze International Board Member Christine Morton, Phd in the next few weeks along with the next steps for the Roundtable.
Check out some of the photos on Facebook from the Roundtable. You can read the online version of Lamaze International's policy brief on childbirth education or download it here. You can find many resources about Lamaze International's advocacy work and efforts to improve maternal infant health outcomes on our Advocacy page.