I appreciate Lamaze International for many reasons, and one reason is that they continually provide useful new material for childbirth educators to integrate and adapt for their classes and curriculum. Additionally, this information is also available directly to consumers on the parent site Lamaze.org.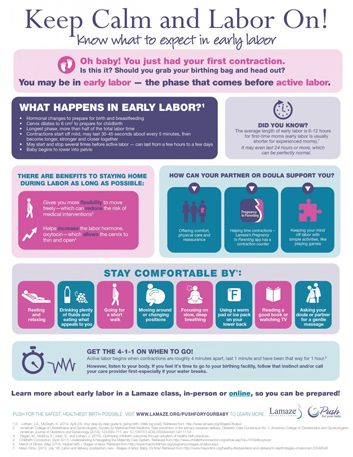 The newest Lamaze infographic "Keep Calm and Labor On" has just been released and posted to the website. I think it is particularly relevant as it aligns with the ACOG/SMFM Joint Obstetric Care Consensus Statement – "Safe Prevention of the Primary Cesarean Delivery" released in February, 2014. We discussed the importance of this statement in a blog post by Judy Lothian on Science & Sensibility at the time.
As educators, doulas and other birth professionals, we can prepare our students and clients to pace themselves in early labor by working through early labor at home with the support of their partner, doula and family. Active labor is considered 6 CM of cervical dilation, and if there are no medical conditions that change the circumstances, most laboring people will be admitted as they round the corner to active labor and a cervical exam shows them to be approaching that 6 CM mark.
Families should understand that early labor may take several days or may even start and stop, and all of this is considered within normal limits. Having a strategy for how they will handle early labor, what they will do to stay relaxed and well-fueled and the type of support that they will need at home during this time is critical. When pregnant people and their support team are not adequately informed about what a normal early labor will look like, they may find themselves at the hospital facing unnecessary interventions that can change the course of their birth experience and outcome. Arriving at the hospital or birth center at the right time can help people to have a safe and healthy birth experience.
This early labor infographic is easy to read and understand and clearly explains the benefits of having an early labor plan. It discusses the benefits of early labor occurring at home, offers strategies for coping with early labor and makes many useful suggestions that will help with comfort and coping.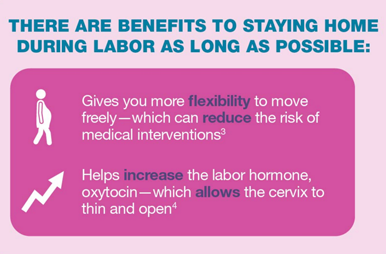 How are you teaching about early labor in your classes and with your clients? Have you made the transition to teaching that active labor starts at 6 CM? Do you have a fun and interactive way to teach this? I would also love to refer you to a previous BrilliantActivities for Birth Educators post written by Mindy Cockeram, LCCE – "Should I Stay or Should I Go Now?" or When To Go To The Hospital or Birth Center for a fun idea to do with your classes.
You can find all the infographics on the Lamaze International infographics page. Here you can choose to view the "Keep Calm and Labor On" infographic, as well as all the others, as a webpage or download as a pdf or jpg.
References
Caughey, A. B., Cahill, A. G., Guise, J. M., Rouse, D. J., & American College of Obstetricians and Gynecologists. (2014). Safe prevention of the primary cesarean delivery. American journal of obstetrics and gynecology, 210(3), 179-193.
Zhang J, Landy HJ, Branch DW, Burkman R, Haberman S, Gregory KD, et al. Contemporary patterns of spontaneous labor with normal neonatal outcomes. Consortium on Safe Labor. Obstet Gynecol 2010;116:1281–7. [PubMed] [Obstetrics & Gynecology