In an earlier post on Science and Sensibility, regular contributor Anne Estes, PhD reviewed Science of Mom: A Research-Based Guide to Your Baby's First Year, a new evidence-based book focused on answering questions on health, sleeping, and feeding for an infant's first year. The book grew out of author Dr. Alice Callahan's blog, Science of Mom, that she began writing as a new mother. Dr. Callahan took some time out of her busy schedule to talk with Anne about her new book and how it might be helpful for childbirth educators and new parents. Readers will also want to pop over to Anne's blog – Mostly Microbes, to listen to a podcast of a more detailed interview with Dr. Callahan, the author of The Science of Mom. We'd also like to congratulate Amy Lavelle for being randomly chosen from the commenters on the original post. Amy wins herself a free copy of the book. We hope that she will enjoy reading it. – Sharon Muza, Community Manager, Science & Sensibility.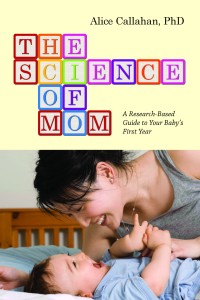 Anne Estes: What do you see as the role of this book for childbirth educators and other birth professionals?
Alice Callahan: First, my book gives a really in-depth look at several newborn medical procedures, including timing of cord clamping, the vitamin K shot, and eye prophylaxis, plus shorter sections on newborn screening, the hepatitis B vaccine, and the newborn bath. Childbirth educators will take away a clear understanding of the evidence behind these procedures, and they can pass that knowledge onto students and clients. Second, and just as useful, those in-depth sections serve as excellent case studies for how to look at scientific evidence. My hope is that this background will give readers the tools needed to evaluate scientific evidence on their own as they encounter new questions – and I'm sure birth professionals are constantly faced with new questions!
AE: Why should childbirth educators suggest your book as a resource for interested parents?
AC: New parents are often taken off guard by the number of questions they have about childbirth and caring for a new baby. In online forums and playground conversations, they're suddenly thrown into discussions of what is best for babies, and they find themselves trying to sort through lots of conflicting opinions and misinformation, trying to make the best choices for their own babies. It's tremendously valuable and empowering to be able to understand how science can inform these decisions and how to find evidence-based resources. My book not only gives parents evidence-based information on infant health, feeding, sleep, and vaccines, but it also illustrates for parents how to find it themselves.
AE: What message from your book is most important for childbirth educators to share with their students?
AC: Seek evidence to inform your decisions. Be very skeptical of everything you read on the Internet, and make sure you're getting your information from an accurate source. There's so much misinformation out there that can be very misleading and even dangerous for parents and their babies. Don't assume that something more natural or involving less intervention is always better. That isn't always the case. Instead, look for objective evidence of risks and benefits, and make an informed choice.
AE: How did you choose the topics for your book? Was it difficult to decide what to leave out?
AC: I tried to choose topics that I think are some of the most common causes of confusion and anxiety for parents, based on questions that I get on my blog or that I see in online parenting forums. To be honest, my original proposal for this book included several more topics, but as I fleshed out chapters, I realized that it was more interesting to look at several topics in a really in-depth way rather than skim the surface on lots of different topics. But honestly, if I'd been able to devote another year or two to it, it could easily have been twice as long, because there are just so many great questions that parents have about the first year of life. I would have liked to cover topics like emerging research on the microbiome and concerns about chemical exposures, for example, but I may have to save those for another book!
AE: What do you feel is the most controversial topic in your book?
AC: The safety of bedsharing is probably the most controversial topic in the book. Sleep practices are just so personal, and many parents really value bedsharing with their babies for cultural, emotional, or practical reasons. This is an area where you'll find very conflicting advice, and everyone cites scientific studies to back their stance. In the book, I do my best to look honestly at the evidence for and against bedsharing safety. I explain that multiple studies do show risk of bedsharing in certain circumstances, especially with babies in the first few months of life, but I acknowledge the limitations of those same studies. And I also point out that individual factors, such as ease of breastfeeding or alternatives to bedsharing (including the risks of falling asleep with your baby on a couch or trying to drive a car while severely sleep deprived, for example) might make careful bedsharing a reasonable choice. I think we need to share all of this information with parents and discuss how to set up a bed to make bedsharing as safe as possible if that is the choice.
AE: Could you describe how you determine which findings from the scientific literature are best for answering a parenting question?
AC: In the book, I give a rough guide to types of study designs and explain which ones are most likely to give us strong evidence that is relevant to parenting decisions. Systematic reviews and meta-analyses are usually most useful, because they combine the results of multiple studies so are more likely to give us a big picture consensus about a question. (This assumes that the authors selected high quality studies for the review, so you have to be a little careful here.) Looking at single studies, randomized controlled trials are the best quality, whereas observational studies are usually limited by confounding factors and can only show correlations, not causation. Studies conducted in animal models or cell culture are an important step in scientific research, but we really want to see follow-up in human studies before we change our lives over the results. As you look at studies, you also want to pay attention to how many people were included in the study and whether or not the population is similar to your own. Evaluating scientific evidence takes some practice, and I go into lots more detail in the book.
AE: I was shocked to read that immediate cord clamping and cutting and stomach sleeping were practices changed in the mid-1900s without any evidence. Could you talk about how one of those practices began, the implications, and what it took (or will take in the case of umbilical cord clamping) for the original practices to be put back into place?
AC: It's surprisingly difficult to pin down exactly when the shift to immediate cord clamping occurred, but it probably happened in the early to mid-1900s. Before this, it was likely standard practice to wait a few minutes or until the cord stopped pulsing before clamping it. The shift to immediate cord clamping seemed to coincide with the movement of birth from the purview of midwives in homes to obstetricians in hospitals. Immediate cord clamping was also part of the practice of active management of the third stage of labor, which was introduced in the 1960s. However, there was no evidence then that immediate cord clamping was beneficial to either mom or baby, and studies show that delayed cord clamping does not increase the mom's risk of postpartum hemorrhage (which was a belief for a while).
Immediate cord clamping is an example of an intervention put into place because it was convenient, not because it was evidence-based. We now have good evidence that delayed cord clamping is beneficial to infants, especially those born preterm. For term infants, the biggest benefit is a boost in iron stores that can prevent iron deficiency later in infancy. There is some evidence that the risk of jaundice is increased, but as I discuss in the book, this is controversial. We're seeing some obstetricians making delayed cord clamping their standard of care, but practice is really mixed in the U.S. At this time, ACOG recommends a delay of 30-60 seconds for preterm infants, but they refrain from making any recommendation for term infants, citing insufficient evidence. I actually appreciate that they're careful to ensure there is adequate evidence before changing practice, but I do think we have enough evidence now that we should really be going back to delayed cord clamping whenever possible. I think that with a little more time and a few more studies, delayed cord clamping will again become standard practice, especially with doctors in the U.K. testing a resuscitation trolley that allows the cord to remain attached even if the infant requires resuscitation.
AE: What did you do to feel prepared for your labor and birth, and first weeks of parenting? Did you choose to take a childbirth class? Do you feel it helped you feel prepared and confident?
AC: Before the birth of my first child, I took a childbirth class through a local hospital. It was very helpful in terms of knowing generally what to expect with labor and learning some ways to cope with discomfort. To prepare for the birth of my second baby four years later, my husband and I both read The Birth Partner by Penny Simkin. I liked that it was evidence based and a straight-forward source of information, and my husband put Simkin's suggestions into action to truly be a great birth partner.
One of the most important aspects of birth preparation for me was developing a trusting and respectful relationship with my healthcare providers. My babies were delivered by two different OBs, and both were wonderful at communicating options to me as things progressed. Based on our discussions throughout pregnancy, I knew that I could trust them to be evidence based in their practice, and that helped me relax in labor and focus on my job of giving birth.
How did I prepare for the first few weeks of caring for a newborn? I did what women have been doing throughout the history of our species – I invited my mom to come and help! She was a wonderful help after the birth of both of my babies, and I felt lucky to have her.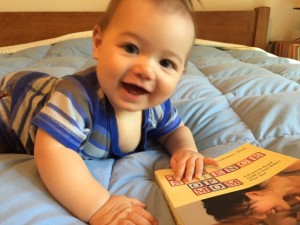 AE: What future topics are you looking forward to writing about next?
AC: Readers of my blog keep me well-supplied with questions about parenting, and I have a huge list of topics that I'd like to tackle. One of my favorite areas of focus is nutrition, as that is the field of my PhD training, so I'd like to develop more information about infant nutrition on my blog.
While I was researching and writing my book, I had three miscarriages. That brought up lots of questions for me about miscarriage and infertility, but I didn't have time to write much about these topics because I was working so hard on The Science of Mom. I'd like to write more about them now. I think there is a real need for compassionate and evidence-based writing about these tough topics.
About Anne M. Estes, PhD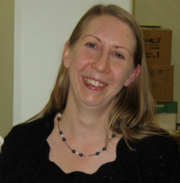 Anne M. Estes, PhD is a postdoctoral fellow at the Institute for Genome Sciences in Baltimore, MD. She is interested in how microbes and their host organisms work together throughout host development. Anne blogs about the importance of microbes, especially during pregnancy, birth, first foods, and early childhood at Mostly Microbes.