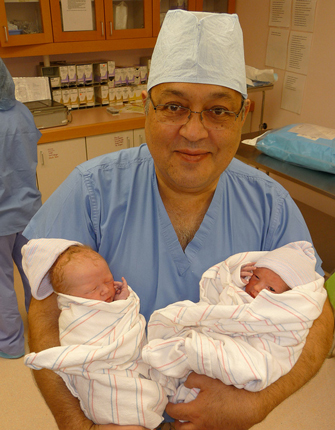 The American College of Obstetricians and Gynecologists and the Society for Maternal Fetal Medicine released their second joint consensus statement on January 22nd, 2015. This consensus statement, Levels of Maternal Care is published in the February 2015 issue of Obstetrics and Gynecology (Green Journal).
What are the objectives of this statement?
The objectives of the statement, Levels of Maternal Care, is fourfold:
To introduce uniform designations for levels of maternal care that are complementary but distinct from levels of neonatal care and that address maternal health needs, thereby reducing maternal morbidity and mortality in the United States
To develop standardized definitions and nomenclature for facilities that provide each level of maternal care
To provide consistent guidelines according to level of maternal care for use in quality improvement and health promotion
To foster the development and equitable geographic distribution of full-service maternal care facilities and systems that promote proactive integration of risk-appropriate antepartum, intrapartum, and postpartum services
With a system in place that defines the levels of care, it will be clear when a transfer of care is deemed necessary to a facility that is better able to provide risk appropriate care to those women who need a higher level of maternity care. This will improve maternal outcomes and reduce maternal morbidity and mortality.
Our goal for these consensus recommendations is to create a system for maternal care that complements and supplements the current neonatal framework in order to reduce maternal morbidity and mortality across the country. – Sarah J. Kilpatrick, MD/PhD, Lead Author
The USA ranks 60th in maternal mortality worldwide (Kassebaum NJ, 2014) and while some states have established programs for a striated system of maternity care separate from the needs of the newborn, designations of what level of maternal care center will best serve the mother is not consistent and and creates confusion with a lack of uniform terms and definitions. Data supports better outcomes for mothers when certain maternal complications are handled in a facility deemed most appropriate for that condition.
Many years ago, thanks to the efforts of the March of Dimes, a similar system of levels of neonatal care was designated for the newborn, with each level having clear definitions of the type of services they were best able to provide, how they should be staffed and when a baby was to be transferred to a higher level facility based on newborn health conditions. This newborn level of care system improved outcomes for babies in the USA, as they were assigned to a location that could best meet their medical needs. The levels of maternal care compliment the levels of care for the neonate, but should be viewed independently from the neonatal designations.
What are the levels of maternal care?
The statement defines five levels of care – Birth Center, Level I (Basic Care), Level II (Specialty Care), Level III (Subspecialty Care) and Level IV (Regional Perinatal Health Care Centers).
For each level, there is a definition, a list of capabilities that each facility should have, the types of health care providers that are assumed to be competent to work there and examples of appropriate patients.
Each level requires meeting the capabilities of the previous level(s) plus the ability to serve even more complicated situations until you reach Level IV, suitable for the most complicated, high populations.
The risk appropriate patient deemed suitable for each level takes into account the skills and training of the midwives or doctors who staff that facility and the ability of those individuals to initiate appropriate emergency skills and response times for the patient. As a woman becomes less and less "low risk", she will need to have her care transferred to the appropriate level. This transfer may occur prenatally, intrapartum or during the postpartum period.
Recognition of the out of hospital midwife and the birth center
The consensus statement recognizes the credentials of the Certified Midwife (CM), the Certified Professional Midwife (CPM) and the Licensed Midwife (LM) as appropriate health care providers, along with Certified Nurse Midwives, OBs and Family Practice doctors, for low risk women in out of hospital facilities where those individuals are legally recognized as able to practice. The low risk woman is defined as low-risk women one with an uncomplicated singleton term pregnancy with a vertex presentation who is expected to have an uncomplicated birth.
The statement also officially recognizes the freestanding birth center as an appropriate place to give birth for low risk women, along with supporting the collaboration of birth center midwives with the health care providers at higher level maternal care facilities.
Clear capabilities and requirements
The statement also outlines the type of staffing requirements to be available for services, consultation, or emergency procedures at each type of facility.
The consensus statement acknowledges that the appropriate level of care for the baby may not align with the appropriate level of care for the mother. Care guidelines that have been long established and well determined for the newborn should also be followed.
Consensus statement receives strong support
The consensus statement has been reviewed and endorsed by:
American Association of Birth Centers
American College of Nurse-Midwives
Association of Women's Health, Obstetric and Neonatal Nurses
Commission for the Accreditation of Birth Centers
The American Academy of Pediatrics leadership, the American Society of Anesthesiologists leadership, and the Society for Obstetric Anesthesia and Perinatology leadership have reviewed the opinion and have given their support as well.
Additionally, the Midwives Alliance of North America was pleased to see this consensus statement and read how the role of out of hospital midwives was addressed.
MANA applauds ACOG's identification of the need for birthing women to have a wide range of birthing options, from out of hospital settings for low-risk women to regional perinatal centers for families experiencing the most complicated pregnancies. As ACOG states, a wide variety of providers can meet the needs of low-risk women, including Certified Professional Midwives, Certified Nurse Midwives, Certified Midwives, and Licensed Midwives. We strongly concur with the need for collaborative relationships between midwives and obstetricians.Treesa McLean, LM, CPM, MANA Director of Public Affairs
What does this mean for the childbirth educator?
I encourage all birth professionals to read the consensus statement (it is easy to read) to understand the specifics of each level of maternal care. As we teach classes, we can discuss with our families that there may be circumstances during their pregnancy or labor that require their care to be changed or transferred to a facility that offers the level of maternal care appropriate for their condition. Some of us already work in hospitals that are Level IV while others of us might teach elsewhere. We can help families to understand why a transfer might be necessary, and how to ask for and receive the information they need to fully understand the reason for a transfer of care and what all their options might be. Families that are prepared, even for the events that they hoped to avoid, can feel better about how their labor and birth unfold.
Thank you ACOG and SMFM for working hard to clarify and bring about uniform standards that can be applied across the country that will improve the outcomes for mothers giving birth in the USA.
Photo source: creative commons licensed (BY-NC-SA) flickr photo by Paul Gillin
References
Kassebaum NJ, Bertozzi-Villa A, Coggeshall MS, Shackelford KA, Steiner C, Heuton KR, et al. Global, regional, and national levels and causes of maternal mortality during 1990–2013: a systematic analysis for the Global Burden of Disease Study 2013 [published erratum appears in Lancet 2014;384:956]. Lancet 2014;384:980–1004. [PubMed]
Levels of maternal care. Obstetric Care Consensus No. 2. American College of Obstetricians and Gynecologists. Obstet Gynecol 2015;125:502–15.