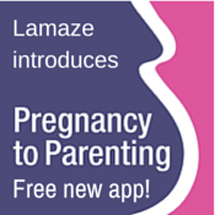 Lamaze International is delighted to announce the launch of their new "Pregnancy to Parenting" mobile app for families. This just released app is meant to be a comprehensive evidence based resource for people to use during the childbearing year and is free to anyone who downloads it. In addition to sharing customized information about their pregnancies, the app also provides tips and information for labor and birth and then continues to support families after birth as they feed and care for their new baby. 85% of millennials are heavily reliant on their smartphones for both information as well as entertainment throughout the day. Lamaze International, well-recognized as the leader in childbirth education, meets today's parents where they are at (on their smart phones) with this well designed, well thought-out app that takes families from conception all the way into their first weeks and months of parenting!
After downloading the app from either the Apple App store or from Google Play, parents can get weekly information about their pregnancy, updates on what baby development looks like that week and even access fun lighthearted facts that are entertaining as well as interesting. Daily tips, relevant articles, and Q&As are also included.
The "Pregnancy to Parenting" app lets pregnant families find a Lamaze class near them (make sure your information is up to date in your membership profile! We will discuss how to access and update your profile in a post here on Thursday), maintain a calendar that tracks their CBE classes, doctor or midwife appointments, and even create a pregnancy journal with notes, videos and pictures.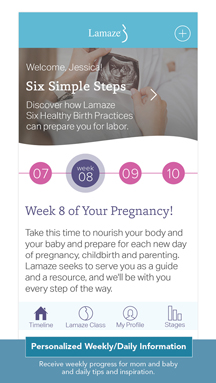 As labor begins, there is a handy contraction timer and parents can access evidence based information about what to expect during labor and birth as well as useful tips, for example – information on the importance of moving around and changing positions as labor continues to progress.
After birth, parents can use the useful breastfeeding and diaper tracker as they head into the wonderful but exhausting first days and weeks with their newborn. There is also information on postpartum mood and anxiety disorders, what to look for and how to get help.
The content in the "Pregnancy to Parenting" mobile app was prepared and approved by Lamaze Certified Childbirth Educators just like you, and delivered in a thorough and easy to navigate app that looks great and functions well on today's mobile devices.
As the "Pregnancy to Parenting" mobile app gets introduced to expectant and new parents, Lamaze International is offering educators and other birth professionals an opportunity to participate in a 60 minute webinar: Utilizing the New Lamaze Mobile App – Pregnancy to Parenting, facilitated by former Lamaze President Michelle Deck, RN, MEd, BSN, LCCE, FACCE on Tuesday, June 9th at 1:00 PM EDT. The purpose of this webinar is to share information with childbirth educators on the app's content and functionality as well as suggest how educators can introduce the mobile app to families and incorporate the app in their classrooms. You can register now for this informative session.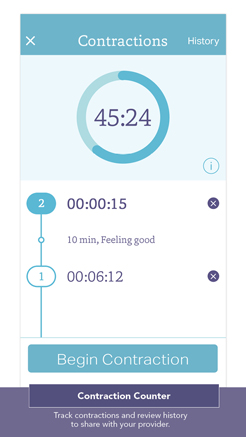 Lamaze International has prepared an educator resource kit to help you spread the word about the new "Pregnancy to Parenting" mobile app that includes flyers for your classroom and workplace, a friendly email that you can use to introduce the app to your students and community and even PowerPoint slides that can be integrated into your classroom curriculum. Learn more about the mobile app and these resources here on the resource kit page of the Lamaze International website.
Lamaze International wants to offer the families you work with (and all families) access to additional information that supports what they are already learning in their Lamaze class. Having access to resources that provide evidence based information in a format that today's families are used to accessing helps families to have a safe and healthy birth and make decisions that support healthy mothers, healthy babies and healthy families. Making it easy for families to find a Lamaze class in their area, when they have not yet signed up for childbirth classes, helps educators to reach more families and benefits educators by directing those families right to you! The new "Pregnancy to Parenting" mobile app is a great tool for families and educators a like. Head over to the app store of your choice and download the app, so you can become familiar with it and will be ready to share with the families that you work with. See you in the webinar!