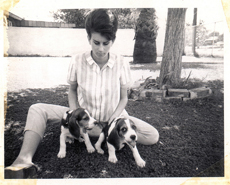 Are you a childbirth educator looking to add a skill to your childbirth educator repertoire? Lamaze International is pleased to offer a groundbreaking continuing education opportunity that you can take back to your classrooms and offer as a class add-on to your childbirth education students.
Do you recall when you are teaching the coping skills section of your childbirth class, and a woman will often state "If I could only bring my dog to the hospital with me. I get such comfort out of having my dog around." After attending this webinar, you will have the skills you need to help families train their dogs to be "Trained Canine Labor Support." After families and pets attend your hands on training, they will be authorized to have their dog in attendance at their birth. Hospitals and birth centers will welcome the dog to the support team, knowing that the dog and family have successfully completed their customized "Trained Canine Labor Support" program, including receiving a score of 80% or better on the practical skills test portion.
Childbirth educators are uniquely positioned to be able to offer this supplemental class to their students along with their traditional childbirth education classes.
Evidence has shown that women who choose to have their trained Canine Labor Support dogs at their labor, along with an excellent childbirth education class, a supportive partner/family, a trained birth doula and respectful health care providers will experience reduced pain and increased satisfaction. (Golden and Labrador, 2008). There is documentation of this beneficial support going back several decades.
Since staying hydrated and nourished during labor (Lamaze International's Healthy Birth Practice #4 - Avoid Routine Interventions) is very important, the trained dog, when outfitted with a specially designed backpack, can keep the mother's nutritious food and drink close at hand no matter wherever she is laboring - walking the halls, using the tub or resting in bed.
When a mother is feeling particularly stressed, research has shown that the trained dog can carefully lick the laboring woman's face, reducing her cortisol levels significantly and promoting oxytocin release along with increased endorphin production. (Airedale, 2013)
Some women find that the sensory stimulation of running their fingers through their dog's fur can be an effective component of the Gate Control Theory of Pain. A recent randomized control study demonstrated that fur stroking synchronized with long rhythmic breaths decreased muscle tension and pain by approximately 69% in women who had reached the active phase of labor. (Weimaraner, Schnauzer and Basenji, 2010)
As childbirth educators, we teach and encourage women to labor in many different positions based on the research behind Healthy Care Practice #2 - Walk, Move and Change Positions During Labor. With a Trained Canine Labor Support dog, the woman can more comfortably get into many positions, using the dog for support and stability. The dog can offer physical support when the mother prefers to kneel, squat or lean over for comfort and to promote continued progress of labor.
Many women find laboring in water to be a great help in reducing pain. Trained Canine Labor Support dogs have learned skills in testing the water temperature before the woman gets in the labor tub and signaling to the laboring woman and her team when it is appropriate and safe to get in the water.Creating a home like intimate environment with the Trained Canine Labor Support dog, even in the hospital, has been shown to relax women, reduce their anxiety and promote productive contractions - leading to reduced need for labor augmentation. (Dalmation and Dashchund, 2012)This free full day live webinar led by a team of experienced Canine Labor Support Educators will include our pilot families and their dogs, in the education studio to demonstrate the following skills you will learn to teach:
The dog as a stable platform for labor positions
Canine potty breaks in the labor room - utilization of the chux pad
Helping the Trained Canine Labor Support animal to be friendly and welcoming to unfamiliar people in the hospital L&D room.
Introducing your Trained Canine Labor Support to the newborn
Desensitizing the dog to the normal sounds of labor
Why cats are not intelligent enough to provide effective animal support ( a question that will frequently come up in your classes)
Additional skills that families will use when they plan to bring their Trained Canine Labor Support animal to their labor and birth.
There are a limited number of spaces for this live webinar, scheduled for Friday, April 25th, 2014 9AM-4 PM EST. This webinar is provided at no cost to any interested educator in part thanks to a financial partnership with Lick Your Chops Dog Chow. Only those educators who participate in the full day training will be qualified to offer this to families in their classes. Click here to register now and ensure your spot.
References:
Airedale, P. U. P. (2013). Benefits of canine saliva on maternal cortisol levels. Journal of the National Canine Medical Association, 88(1), 27.
Dalmation, Spot. and Dachshund, Frank. (2012). Labor sensitivity comparison in austere and home-like LDRPs in clinical situations. International Journal of Domesticity, V119 no 4.
Golden, K. and Labrador, M. (2008).Canine Labor Support- a revolutionary model. Journal of American Kennel Club, 19 no 4.
Weimaraner, F., Schnauzer, H.. and Basenji, A. (2010). Introduction of sensory fur stroking during active labor as a measure to reduce analgesic or anesthetic requests of laboring women. American Journal of Domestic Animals, 107(1), p142-149.
NOTE: This post was posted as an APRIL FOOLS JOKE ON 4/1/2014. Please take it in the lighthearted manner in which it was intended.