Many readers of this blog follow our Understanding Research series developed by our very own Andrea Lythgoe, LCCE. Here's another learning resource for those interested in deepening their understanding of the fundamentals of evidence-based healthcare.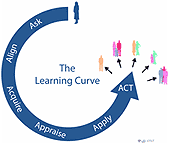 Consumers United for Evidence-Based Healthcare, a collaborative project of the U.S. Cochrane Center has developed a free online course in six parts that look in-depth with real-world examples about how evidence can be the foundation for action. As the project director, Kay Dickerson, says, "We're only going to get evidence-based healthcare in this country through consumer activism."
Lamaze International along with other maternity care advocacy organizations including Childbirth Connection and Our Bodies Ourselves are members of CUE. Here's an inspiring video about CUE and the importance of consumer involvement in pushing for evidence-based care in the U.S.