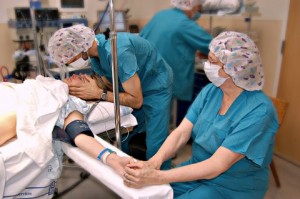 As we have mentioned earlier this month, when Jen Kamel discussed placenta accreta as a downstream risk factor of the increasing cesarean rate, April is Cesarean Awareness Month and the World Health Organization (WHO) has come out with a new statement (WHO Statement on Caesarean Section Rates) that discourages identifying a "cesarean target rate" but rather encourages the use of cesarean surgery worldwide only when appropriate to protect the health of mother and baby. The goal should be that every cesarean performed is done out of true medical necessity and the decision to do so should be based on individual circumstances evaluated at the time for each mother/baby dyad.
Since 1985, it has been stated that a safe and appropriate cesarean target rate was between 10-15%. It was believed that if the cesarean rate exceeded that target rate, the mortality and morbidity for both mothers and babies would rise as a result of potentially unnecessary surgeries being performed. Everyone recognizes that a cesarean birth can save the life of a mother and/or a baby. But it needs to be acknowledged that there are no benefits to mothers and babies when a cesarean is done when it is not required. WHO has decided to revisit the decades old suggested target rate as the number of cesarean surgeries being performed are increasing all around the world. In the USA, in 2013, 1,284,339 cesarean surgeries were performed. 32.7% of all babies born in the USA that year were delivered by surgery.
There are both short term and long term risks to mothers, babies and future pregnancies every time a cesarean is performed. These risks are even more elevated in areas where women have limited access to appropriate obstetrical care.
The WHO strived to identify an ideal cesarean rate for each country or population as well as a worldwide country level analysis. The cesarean rate at the population level is determined by two items - 1) the level of access to cesareans and 2) the use of the intervention, both appropriate and inappropriately. Governments and agencies can use this information to allocate funding and resources. Cesareans are costly to perform and doing more than necessary puts undue financial hardship on resources that may already be stretched too thin in many places around the world.
After conducting a systematic review - the team tasked with determining the population based cesarean rate determined that indeed, when cesareans are performed up to a rate of approximately 10-15%, maternal, neonatal and infant mortality and morbidity is reduced. When the cesarean rate starts to increase above this level, mortality rates are not improved. When socioeconomic factors were included in the analysis, the relationship between lower mortality rates and an increasing cesarean rate disappeared. In locations where cesarean rates were below 10%, as the rate increased, there was a decrease in mortality in both mothers and babies. When the rate was between 10-30%, they did not see a continued decrease in mother or newborn mortality rates. The team also acknowledged that once the cesarean rate increased to 30% or above, the link between newborn and maternal mortality becomes difficult to assess.
In countries that struggle with resources, staffing and access to care, the common complications of surgery, such as infection, make cesarean surgery even more complicated and even dangerous for those women who give birth this way.
The team also struggled with analyzing the morbidity rate due to the lack of available data. They did acknowledge that while the social and psychological impact of cesarean sections were not analyzed, potential impacts could be found in the maternal–infant relationship, women's psychological health, women's ability to successfully initiate breastfeeding and pediatric outcomes. More research is needed.
The WHO team also felt it is important to establish, recognize and apply a universal classification system for cesareans that can be applied at the hospital level and allow comparisons to take place between different facilities and the unique populations that they serve. Once established, rates and systems could be compared between geographic regions, countries, different facilities and on a global level and the data analyzed effectively to help identify where change can be effective at reducing poor outcomes.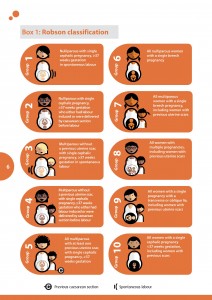 After reviewing the different classification systems currently available, they determined that universal use of the Robson classification would best meet the needs of both international and local analysis. The Robson classification system is named after Dr. Michael Robson, who in 2001 developed this system to classify women based on their obstetric characteristics for the purpose of research analysis. This allows for comparisons to be made regarding cesarean section rates with few confounding factors. Every woman will be clearly classified into one of the ten known groups when admitted for delivery. The WHO team states that the Robson classification system "is simple, robust, reproducible, clinically relevant, and prospective."
The WHO team believes that using the Robson classification will aid in data analysis on many levels and the information obtained from these analyses be public information. This information can be used to help facilities to optimize the use of cesarean section in the specific groups that will benefit from intervention. It will also help determine the effectiveness of different strategies that are currently being used to reduce this intervention when not necessary.
Cesarean sections can be a life-saving tool under certain circumstances. When cesareans are performed when not medically necessary, there are both long term and short term risks to both mothers and babies, including increased mortality and morbidity and risks to future pregnancies. This becomes especially significant in areas of low resources and scare obstetric care. Better data is needed to help reduce the cesarean rate in locations where it is unnecessarily high and to be able to direct resources where they are needed and can improve outcomes. The World Health Organization hopes that this data becomes available so that more accurate research can be conducted and the reduction in mortality and morbidity for mothers and babies can be reduced.
Are you sharing with your classes, clients and families the importance of having a cesarean only when medically necessary? While April may be Cesarean Awareness Month, we need to be diligent all year long to prevent cesareans that are not needed.
Lamaze International has created and made available three infographics that can help families learn more about cesareans and VBACs.
What's the Deal with Cesareans?
VBAC, Yes, It's an Option! (NEW!)
You can download and print these and other Lamaze International infographics from this page here.
Share what you are doing to honor Cesarean Awareness Month in your professional practice in our comments section below.