By Cara Terreri and Sharon Muza
For many of childbirth educators, the topic of precautions to take during pregnancy comes up early on in our childbirth classes. I know I cover this information in week one in all of my series classes. Included in our classroom learning is the topic of alcohol consumption and pregnancy. Families usually have lots of questions and also have often received contradictory information from various sources including their health care provider, friends and family and "Dr. Google" and other online sources.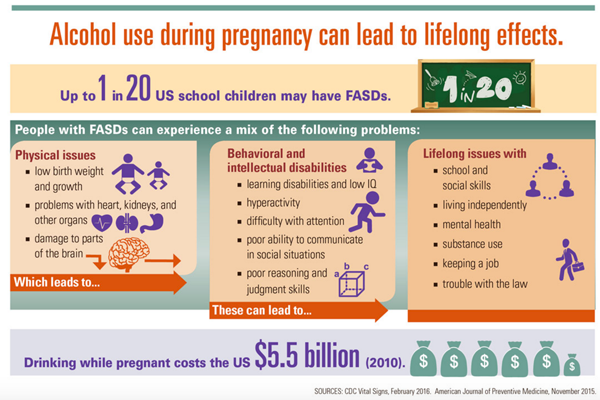 Last week, the Centers for Disease Control released a public information campaign based on a new Vital Signs report aimed at informing people about the risks of alcohol use during pregnancy. While none of the information presented was new or based on new research, the CDC reiterated its no-tolerance for alcohol use during pregnancy stance with the following guidelines for health care providers to discuss and share with women:.
Assess a woman's alcohol consumption
Recommend birth control if she is having sex, not planning on getting pregnant, and drinking alcohol
Advise her to stop drinking if she is trying to get pregnant or not using birth control
Refer to outside services if help is needed to stop drinking
Follow up often
The CDC bottom line reads: Drinking any alcohol at any stage of pregnancy can cause a range of disabilities in children; why risk it?
In what was likely intended to be a valiant message to protect unborn children and reduce the rate of Fetal Alcohol Spectrum (FAS) disorders, which is the leading cause of developmental disability and birth defects, the CDC press release and associated graphics unleashed a firestorm of backlash from women everywhere who found the guidelines to be misogynistic, paternalistic, and fear-mongering. News agencies, bloggers, columnists, and others with public platforms blasted the organization for suggesting that all women of childbearing age should stop drinking unless on birth control, and for omitting one essential part of the conception equation: men. Not to mention the fact that abstinence messages are known to be ineffective.
Critiques of the CDC message aside (no point in reiterating what has been said by many, many others; plus, you can draw your own conclusions), many families are left, once again, wondering what to believe and what course of action to take. The reality is that there are several studies that show a link between small and heavy alchohol consumption and Fetal Alcohol Spectrum(FAS) disorders. FAS is very preventable. There also are several studies that show that small or moderate levels of alcohol consumption have no effect on behavior, mental, or motor development. (Source: Debunking the Bump, Adler, 2014) To further muddy the picture, governing health care agencies from different countries are in disagreement with each other on alcohol consumption guidelines.
Ultimately, the decision to consume alcohol — whether pregnant or not — is up to each individual person. The CDC recommends that consumers:
Talk with their health care provider about their plans for pregnancy, their alcohol use, and ways to prevent pregnancy if they are not planning to get pregnant.
Stop drinking alcohol if they are trying to get pregnant or could get pregnant.
Ask their partner, family, and friends to support their choice not to drink during pregnancy or while trying to get pregnant.
Ask their health care provider or another trusted person about resources for help if they cannot stop drinking on their own.
It's important for people who may be pregnant, or who can become pregnant and/or are trying to conceive to do their own research and collect input from multiple sources (research studies, personal physicians or midwives who know them and their history, advisory organizations) to make a decision that's right for their family.
So what is a childbirth educator to do? What information do we share in class? Where do we direct students for accurate information, especially since 50% of all pregnancies are unplanned, and some people may have consumed alcohol when they did not know yet that a pregnancy had occurred. I use this opportunity to discuss the decision making process that parents need to make both BEFORE and AFTER their child is here. The information gathering never stops when people become parents. I also urge families to discuss their personal situation with their health care provider. I validate that all families want to do what is best for their babies and acknowledge that it can often be confusing and overwhelming. I am glad that I have an opportunity to listen to their concerns, direct them to accurate resources and provide support for the challenges that pregnant people face.
How do you handle the topic of alcohol and pregnancy in your classes? Have your students expressed concern since this new CDC campaign hit the news and internet? What discussions have you had? What are your favorite resources on this topic? Please share your thoughts in our comments section.