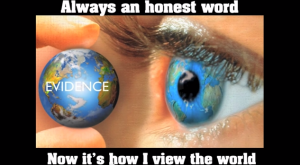 Lamaze International and Science & Sensibility are all about supporting and promoting evidence based practice and evidence based health care. Here at Science & Sensibility, our mission is to help both professionals and consumers understand research and to encourage readers to view studies with a critical eye. We believe that when best practice maternal/infant care is based on evidence and solid research, mothers and babies benefit. Birth professionals have a responsibility to understand research and be able to share best practice information with the families we work with.
Today, I would like to share a fun music video parody "Viva La Evidence" set to Cold Play's Viva La Vida (a song both my teenagers recognized and commented on, until they realized this video's lyrics were a bit different!) created by James McCormack, PhD. Dr. McCormack is on the faculty at the University of British Columbia and in cooperation with Mike Kolber, MD, creates informative and very funny podcasts and videos through Therapeutics Education Collaboration. The purpose of the TEC is to "provide physicians, pharmacists, nurses, nurse practitioners, physician assistants, naturopathic physicians, other health professionals, and the public with current, evidence-based, practical and relevant information on rational drug therapy." All done with a healthy dose of humor!
Science & Sensibility has had lots of posts on our blog over the years that can help birth professionals to better understand research and evaluate studies for themselves with a critical eye. We have also had wonderful contributors who have explained research studies and helped us to understand them better. I am very appreciative for all the time and energy freely shared by the professionals who have written for this blog.
Here is some more information for you to have at your fingertips:
Becoming a Critical Reader: An introduction
Becoming a Critical Reader: Bias, Bias Everywhere!
Becoming a Critical Reader: Journal papers that aren't studies
Becoming a Critical Reader: Questions to ask about systemic reviews and meta-analyses
Becoming a Critical Reader: Questions to Ask About Literature Reviews
Becoming a Critical Reader: Questions to Ask About Qualitative Research
Becoming a Critical Reader: Questions to Ask About Quantitative Research
Becoming a Critical Reader: Questions to Ask About Original Research
Becoming a Critical Reader: The Five Basic Questions
Understanding Methodologies: Why Methods Matter
Understanding Methodology: The Basics of Sampling
Understanding Methodology: Elements of Experimental Design
Tracking Down Studies: Going Around Obstacles
Tracking Tools: Follow the Herd
Basic Tracking Skills: How to find what you're hunting for
Hunting Grounds: Where to look for studies
Happy 20th Anniversary to the Cochrane Collaboration!
A great video tutorial by Rebecca Dekker on how to search using the Cochrane Library
(Remember, Lamaze International members get free access to the Cochrane Collaboration as a member benefit.)
Enjoy the video parody, a bit of lightheartedness for us all during the holiday season.