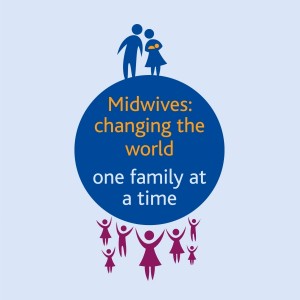 May 5th has been recognized as the International Day of the Midwife since 1992. The International Confederation of Midwives (ICM) supports, represents and works to strengthen professional associations of midwives throughout the world. The purpose of this day is to "celebrate midwifery and to bring awareness of the importance of midwives' work to as many people as possible." There are currently 108 Midwives Associations, representing 95 countries across every continent. ICM is organized into four regions: Africa, the Americas, Asia Pacific and Europe. Together these associations represent more than 300,000 midwives globally.
Midwives play a crucial role in maternal and infant health. This year's theme is "Midwives: changing the world one family at a time." There are many key messages that highlight how midwives around the world are helping mothers, babies, families and communities. Some of these global messages, backed up by research and investigation include:
In midwife-led care, women experience less preterm births, less assisted deliveries and greater satisfaction with care.
Midwives change the world by caring for mothers and babies. By caring for them, midwives help ensure that women are healthy, thus contributing to a strong community and economy. When babies survive, they start growing into healthy children and adults.
If every childbearing woman received care with a well- educated, adequately resourced midwife, most of maternal and newborn deaths could be prevented.
Investments in midwifery education as well as regulation, provision of infrastructure and information will improve access to midwifery care
Midwifery services are economic and cost effective.
Investment in midwives means commitment to a healthy and wealthy nation.
In many countries around the world, access to maternity care is limited by economics, social status, distance and many other factors. Trained and qualified midwives can have a significant impact on mortality rates for mothers and babies worldwide. For healthy, low risk women in developed countries, midwifery care is appropriate, cost effective and provides excellent outcomes for mothers and babies.
Are you or your community doing anything special to honor the midwives who work in your area? Let us know some of the events planned.
Please join Lamaze International, Science & Sensibility and myself in celebrating the women and men (yes, men are midwives too!) who serve as midwives to our partners, our wives, our sisters, our friends, our daughters and granddaughters all around the world. Take a moment to thank them for their hard work and the gentle care they provide to birthing women and families. You may want to send a customized "International Day of the Midwife" ecard to your favorite midwife, and thank them for their contribution to healthy mothers and babies. I am going to take a few minutes today to thank the midwives in my community for taking good care of families in my area.
Additionally, as an avid reader of books, I thought in honor of the International Day of the Midwife that I would share some of my favorite books that I have read about midwives. I would love to hear your suggestions for future reading on this topic, as I enjoy the genre and would welcome your reading suggestions in our comments section.
Baby Catcher: Chronicles of a Modern Midwife by Peggy Vincent
Lady's Hands, Lion's Heart: A Midwife's Saga – by Carol Leonard
The Birth House – by Ami McKay
The Midwife of Hope River – Patricia Harman
The Blue Cotton Gown: A Midwife's Memoir – Patricia Harman
Arms Wide Open: A Midwife's Journey – Patricia Harman
A Midwife's Story – Penny Armstrong and Sheryl Feldman
Orlean Puckett: Life of a Mountain Midwife – Karen Cecil Smith
Monique and the Mango Rains: Two Years with a Midwife in Mali – Kris Holloway
The Midwife: A Memoir of Birth, Joy and Hard Times – Jennifer Worth
Call the Midwife: Shadows of the Workhouse – Jennifer Worth
Call the Midwife: Farewell to the East End – Jennifer Worth
A Midwife's Tale: The Life of Martha Ballard, Based on her Diary, 1785-1812 – by Laura Thatcher Ulrich
Laboring: Stories of a New York City Hospital Midwife by Ellen Cohen
The Midwife's Apprentice – by Karen Cushman
Listen to Me Good: The Story of an Alabama Midwife – by Margaret Charles Smith