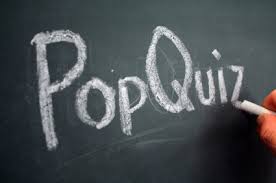 As childbirth educators and birth professionals who work with expectant families, it is critical that we remain up to date on the newest data and research available on a wide variety of topics. When we have current information, we are then able to share this information with the families that we work with in relevant ways. Today, I would like to bring to your attention to the most fundamental, yet comprehensive data available about birth in the United States. 2012 date was released last month by the Center for Health Statistics. The National Vital Statistics Report "Births: Final Data for 2012" is a gold mine of information for those of you who are interested in the state of births in the USA.
I thought it would be fun to try and present some of the data in the form of a quiz, for Science & Sensibility readers to take just for kicks. Take the quiz and see how many of the ten questions you get right? Then follow the link above to the complete report to find out more details and other interesting facts about birth in the USA in 2012. I invite you to share your score in our comments section along with any surprises you discovered when quizzing yourself. If you want to see how you did compared to all the other folks who took the test, you can register on the quiz site, but it is totally not necessary. Take it more than once if you like! You might even use this technique with your students for a fun class activity.
Take S&S 2012 Birth Data Quiz on QuizRevolution.com now!
References:
Martin, J. A., Hamilton, B. E., Ventura, S. J., Osterman, M. J., & Mathews, T. J. (2013). Births: final data for 2011. National Vital Statistics Report, 62(1).
Disclaimer:
This quiz may not work on mobile devices.Tips for using with the Safari Browser:
Click on the settings menu and then Preferences... (or CTRL+,)
Click on the Security tab at the top
Check "Enable Javascript"
For "Accept cookies" - select "Always"
Close the preferences window
Close your Safari browser and reopen and play the quiz again
The ads placed at the end of this free quiz application are at the discretion of the software developers
Image sources
Q2: http://www.flickr.com/photos/_nezemnaya_/3843726606/
Q3: http://www.flickr.com/people/kioko/
Q4: multiple-sclerosis-research.blogspot.com
Q5: Krista Guenin/Krista Photography
Q6: en.wikipedia.org
Q7: eyeliam
Q8: http://commons.wikimedia.org/wiki/File:Map_of_USA_with_state_names.svg
Q9: en.wikipedia.org
Q10: www.dailymail.co.uk