November 17th is recognized as World Prematurity Day and many maternal-infant health organizations share research, blog posts, information, fact sheets, videos and other resources on the topic to be used by professionals and consumers alike. The purpose of the international effort has been to focus on the the impact that premature birth has on the babies themselves, families and society. This year marks the third annual event.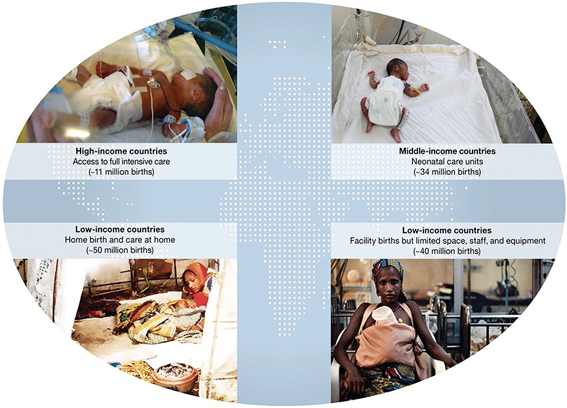 Here are 10 facts about premature birth that you may not have known:
15 million babies are born prematurely every year out of the 135 million babies worldwide. This number is equal to the entire population of Guatemala or Kazakhstan.
1 million of those babies born early die due to prematurity and account for 1/3 of the world's newborn deaths.
Boys are 14 percent more likely than girls to be born prematurely, and preterm boys have a greater risk of disability and death than preterm girls. This may be because mothers are more likely to have pre-eclampsia, placental problems and gestational hypertension if they are carrying a boy. These conditions are more likely to result in a preterm birth.
Preterm girls are more likely than boys to die in the first month of life in some countries where girls receive less nutrition and medical care than boys.
The USA has seen a 30 percent increase in preterm births in the past 20 years, reaching a high in 2006 at 12.8% of all births in the USA.
450,000 babies in the USA are born too soon, around 1 out of 9 babies. The USA has a prematurity rate that is higher than most other developed nations.
Three states, Louisiana, Mississippi and Alabama, along with Puerto Rico receive a grade of "F" for their prematurity rates; Preterm birth rate greater than or equal to 14.6%
In the United States, African-American and Native American babies have the highest neonatal death rate associated with prematurity. Yet another unfortunate consequence of the health disparities and inequities that families of color face in the USA.another way that racial disparities and inequities in health care.
10% of premature babies born before 28 weeks die in high-income countries, while 90% of premature babies born before 28 weeks die in low-income countries.
"Three quarters of the 1 million babies who die each year from complications associated with prematurity could have been saved with cost-effective interventions, even without intensive care facilities." – UN Secretary General Ban Ki-moon. These two interventions are antenatal steroids and Kangaroo Care.
Lamaze International is working alongside other national and international organizations to educate women about preterm births, how to identify premature labor and who is at risk. In that vein, on Thursday, Lamaze International will reveal a brand new infographic here on the blog covering the topic of induction for professionals to use with their students, clients and patients. Lamaze International is proud to be doing their part to help reduce needless newborn deaths and increase awareness on the topic.
Resources and References
Healthy Babies are Worth the Wait
March of Dimes Prematurity Infographic
Lawn, Joy E., Blencowe, Hannah, Darmstadt, Garly L., Bhutta, Zulfigar A. Beyond newborn survival; the world you are born into determines your risk of disability-free survival. Pediatric Research, International Pediatric Research Foundation, Inc. 2013/11/15.