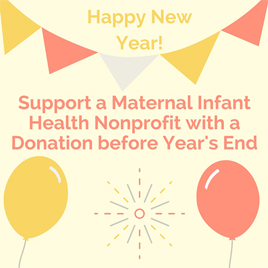 As you get ready to say goodbye to 2015 and welcome in a new year, in whatever fashion feels good to you (I prefer a quiet night at home, probably asleep by 10 PM, living the on-call doula life) consider taking some time out of this last day of 2015 to make a tax deductible contribution to some deserving maternal infant health organizations. These organizations work tirelessly all year long to support families and help them push for their babies and receive evidence based care. They provide resources for both consumers and professionals. They are working to reduce maternal and neonatal morbidity and mortality. These organizations, like you, want all families to have safe and healthy births and outcomes.
Childbirth Connection – a program of the National Partnership of Women & Families
Choices in Childbirth – Founder Elan McAllister, recent conference keynote speaker
Common Sense Childbirth – Jennie Joseph – recent conference keynote speaker
If these organizations don't appeal to you, consider supporting another national or international nonprofit or even consider keeping it local and supporting your favorite local nonprofit that works to support families during the childbearing year.
As we welcome in 2016 and and celebrate with friends and family, let us look ahead to a world where every person who needs it receives appropriate prenatal care, where every family is informed and prepared and is offered the ability to birth their babies safely and with respect and support.
Thank you for considering taking a moment to support these worthwhile organizations. I know they will appreciate your donation, regardless of how much you can give. Happy New Year to you and yours and thank you for all you do to improve birth outcomes.