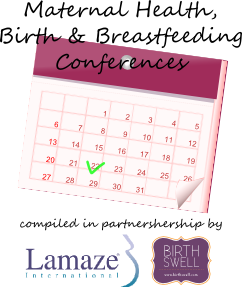 Have you been checking out the constantly updated list of maternal health, birth, breastfeeding and postpartum conferences that Science & Sensibility maintains in cooperation with Birthswell.
We are asking for your help! If you have a conference to share with our readers, or you have some updated information on a conference already listed, please use our conference contact form to pass the info along. We will then make sure to update our information!
You can always find the most updated conference list by clicking on the "calendar" logo that resides in the right hand column of this blog! That will always take you to the current list!
Did we miss anything for 2013? Have you set your schedule for 2014 and beyond? Share your conference schedule updates here or by using the form below.