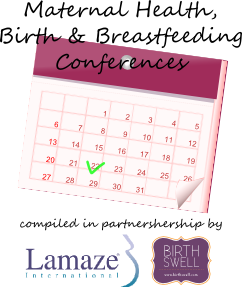 Everyone loves a good conference and birth professionals are no different. The opportunity to attend a conference, learn about new research, hear current evidence, and acquire new skills, while also networking with other people who share your professional interests is very valuable. Coming home with information to share with your local colleagues, and apply in your workplace is an added bonus. There is the additional lure of contact hours and continuing education hours that can be applied towards your certification or licensing requirements.
Science & Sensibility in partnership with Birthswell has created a calendar (with links) of all the upcoming Maternal Health, Birth and Breastfeeding conferences we could find. We will continually update this list as new ones are added or more information becomes available. And we are asking for your help! If you have a conference to share with our readers, or you have some updated information on a conference already listed, please use our conference contact form to pass the info along. We will then make sure to update our information!
You can always find the most updated conference list by clicking on the "calendar" logo that resides in the right hand column of this blog! That will always take you to the current list!
Did we miss anything for 2013? Have you set your schedule for 2014 and beyond? Share your conference schedule updates here.
2014
April 6-9: NASPOG Annual Meeting, Columbus, OH
2013
November 14-17: Association of Prenatal and Perinatal Psychology and Health's Annual Conference On Birth Psychology in Asilomar, CA
November 6-9: Birth and Beyond Conference in London, ON, Canada
November 6-8: Perinatal Mental Health Conference, Chicago, IL
November 2 – 6: American Public Health Association Conference in Boston MA
October 25 – 27: CAPPA Anniversary Conference in Destin, FL
October 24 – 27: Midwives Alliance of North America Annual Conference in Portland, OR
October 24 – 25: PSI PMAD Training, Grand Rapids, MI
October 11 – 13: Lamaze Innovative Learning Forum in New Orleans, LA
October 4 – 6: LLL of the Sunshine State Conference in Daytona Beach, FL
September 29 – 30: Bringing Light to Motherhood Training, Los Angeles, CA
September 28-29: VBAC Summit, Miami, FL
September 26 – 29: American Association of Birth Centers Conference in Minneapolis, MN
September 25-26: Midwest Lactation Conference, Indianapolis, IN
September 18-22: Trust Birth Conference in Sydney, Australia
August 29 – 30: PSI PMAD Training, Winfield, IL
August 3: Northwest Area Childbirth Educators Forum, Tualatin (Portland), OR
August 2 -3: Squat Birth Journal Squatfest, San Francisco, CA
July 29-30: Bringing Light to Motherhood Training, Los Angeles, CA
July 26-28: Birth Activist Retreat, Salt Lake City, UT
July 25 – 28: International Lactation Consultant Association Annual Conference, Melbourne, Australia
July 19 – 20: DONA International Virtual Conference 2013, ONLINE
June 21 -22: Postpartum Support International Annual Conference, Minneapolis, MN
June 21 – 22: Inequity In Breastfeeding Support Summit in Seattle, WA
June 20-23: 2013 Tongue-Tie Summit, Orlando, FL
June 15 – 19: AWHONN Annual Convention in Nashville, TN
June 9: The Importance of Core Strength in the Prenatal and Postnatal Client, Elgin, Illinois
June 7-9: Breastfeeding and PSI of Washingtion Professional Training, Spokane, WA
June 5 – 7: Normal Labour and Birth: 8th Research Conference, Grange Over Sands, English Lake District,
UK
May 30 – June 4: ACNM 58th Annual Meeting in Nashville, TN
May 24 – 26: LLL Regional Conference – Southern California/Nevada Region, Newport Beach, CA
May 22 – 24: ISPOG Conference, Berlin Germany
September 28-29: VBAC Summit, Miami, FL
May 17 – 19: LLL Leader Education Weekend and Parent Day, Denver, CO
May 16 – 19: American Association for the History of Medicine Annual Meeting, Atlanta, GA
May 14: Partners in Perinatal Health 24th Annual Conference, Norwood, MA
May 5 – 6: California Maternal Mental Health Collaborative, Sacramento, CA
May 4 – 8: ACOG 61th Annual Clinical Meeting in New Orleans, LA
May 3 – 5: United States Lactation Consultant Association Annual Conference in St. Louis, MO
May 2 – 3: Baystate Medical Center Lactation Services Annual Breastfeeding Conference, Holyoke, MA
April 26: A Day with Jack Newman Workshop, Bellaire, MI
April 22 – 27th: Christian Midwives International Conference in Savannah, GA
April 22 – May 31: GOLD Online Conference 2013 ONLINE
April 15 – 16: PSI PMAD Training, Indianapolis, IN
April 11 – 12: Perinatal Professionals Consortium, West Jordan, UT
April 6: LLL of Massachusetts/Rhode Island/Vermont Breastfeeding and Parenting Conference, Lowell, MA
April 4 – 5: PSI PMAD Training, Jacksonville, FL
April 3 – 7: Midwifery Today Conference in Eugene, OR.
April 3 – 6: Breastfeeding; The Gold Standard, New Orleans, LA
March 22: REACHE Conference, in Renton, WA
March 20: New Jersey Birth Network Symposium on Birth Practices in New Jersey, New Brunswick, NJ
March 21 – 22: 8th Breastfeeding & Feminism Conference, Chapel Hill, NC
March 18: Boston Association for Childbirth Education & Nursing Mother's Council Breastfeeding Conference, Boxborough, MA
March 6 – April 6: iLactation Conference, Premies, Priorities, and Practice, ONLINE
March 1 – 3: MANA region 1 Conference in Nashua, NH. Contact birthart@metrocast.net for details.
March 1 – 2: CIMS 2013 Forum, Kansas City, MO
February 2-3: When Survivors Give Birth Workshop, Seattle, WA
January 25-26: When Survivors Give Birth Workshop, San Diego, CA
TBA:
9th International Black Midwives and Healers Conference 2013
updated 05/08/13
This list is developed and maintained in partnership with our friends at Birthswell.