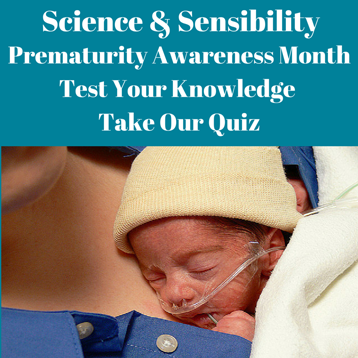 As November comes to a close, you may have read or seen many articles on the topic of premature babies. November is Prematurity Awareness Month, recognized in the United States and around the world. Prematurity affects 15 million babies a year globally and the downstream health consequences to the babies are significant. There is also a huge burden in terms of health care dollars that are required to treat the baby after birth and then potentially for many years beyond that.
In 2013, the national preterm birth rate fell to its lowest rate in 17 years. This decrease helped us to meet the 2020 Healthy People Goals 7 years early, which is something to celebrate. But overall, our prematurity rate is still nothing to be admired, as the United States has one of the highest rates amongst developed nations.
As childbirth educators, we are in a unique position to share information with families, including signs of preterm labor, risk factors and warning signs. Having conversations in your classes can help families to recognize when something may not be normal and encourages them to contact their doctor or midwife if they suspect they may be experiencing some of the signs of a potential preterm birth. While no family wants to think that this might happen to them, bringing up the topic can help them to seek out help sooner.
Science & Sensibility has put together some resources that you can share with the families that you work with. We also invite you to take the Prematurity Awareness Month Challenge Quiz, and test your knowledge on some basic facts about preterm birth. See how well you do and compare your results with others also taking the quiz.
Resources to share
Go the Full 40 – AWHONN's prematurity prevention campaign, including 40 reasons to go the full 40.
Healthy Babies are Worth the Wait – March of Dimes
Healthy People 2020 – Maternal, Infant & Child Health
March of Dimes Prematurity Report Card – Find your state's grade
Centers for Disease Control and Prevention – Prematurity Awareness
March of Dimes Videos on Prematurity Awareness
Signs of Preterm Labor – March of Dimes Video
Preterm Labor Assessment Tool Kit for Health Professionals – March of Dimes.
How do you cover the topic of preterm labor in your classes? What activities do you do? What videos do you like to show? Please share with others how you do your part to inform parents about this important topic and help to reduce prematurity in the families you work with. Let us know in the comments section below.