[Editor's note: This is part two of an interview series between Science & Sensibility's Walker Karraa and OBGYN/researcher, Dr. Michael Lu. To read this interview from the beginning, go here. For a list of resources pertaining to this interview series, go here: resources and bibliography_dr lu interview series. ]
Working Smarter: Preconception Care, Part II
Walker Karraa: You encourage your colleagues to follow the "every woman, every time" philosophy–to use every visit as an opportunity for pre-conception or inter-conception counseling. Given the current system of medical care, how can a care provider manage to do preconception counseling, and get reimbursed?
Dr. Lu: I'll give you a short answer and then maybe later on I'll give the broader vision. The short answer is that everything I read and learn from quality and systems improvement over the last several decades indicates that it's not just about making individual doctors work harder, it's really about making the systems work smarter. We're always asking the OB to do this and do that–often they're not trained for it. They don't necessarily have the time for it. And they're not reimbursed for it.
OBs should have an obligation to try to do their best in terms of promoting women's health, but I think there's a need to really rethink how we might redesign prenatal care, or how we might redesign women's health care in general, so that the center of the universe doesn't revolve around the OB office–which I think is presently poorly equipped to address the totality of the continuum of women's health across the life course.
Currently the 1.0 system is that you get the OB in either a solo, or small group practice, who is supported by the office clerks, maybe a nurse manager who doubles as a health educator, and maybe an ultrasound tech.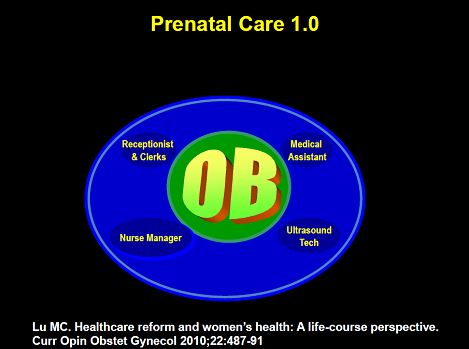 All of the things we've been learning about the fetal origins of health –the importance of nutrition, mental health, environmental exposures in developmental and fetal programming, how much of that counseling do you think is actually going on in OB's office? And remember most of these OB's didn't sign up to be a health educator, to be a nutritional counselor, to be a teratogen information specialist, to do all the things that we know are important in terms of really promoting maternal and infant health.
The public health response over the last couple of decades has been if the OB's aren't doing all those things, then let's create these "wrap-around services"– some kind of the enhanced prenatal care model: I call it the prenatal care 2.0 system.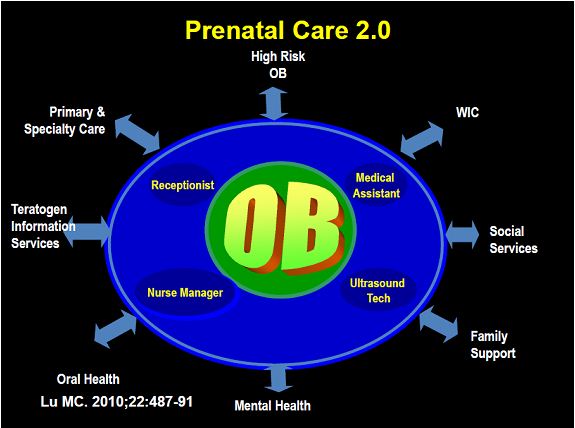 Ideally it should work better than the 1.0 system, but we all know that there are a lot of holes, a lot of gaps: If the providers don't make the referrals, for example. There's nothing more frustrating to me when I screen somebody positive for peripartum depression and there's no one on the other end of the referral, or when we screen someone for intimate peripartum violence and there's no infrastructure at all to help them. And so the 2.0 system just doesn't work very well either.
OB is not the center of the universe
Dr. Lu cont'd: Many of my colleagues around the country and I have been talking about the need to redesign prenatal care, to move it from the 1.0 or 2.0 system to the 3.0 system where the center of the universe is no longer the OB's office. It could be a medical home or better yet kind of a wellness home for women's health– and let's make sure all the things that need to get done, actually get done in that home.
For OBs who don't want to run a medical home, they can be the specialists. They can run an ultrasound center. They can be a hospitalist and just do deliveries. Let them do what they actually enjoy doing. Don't ask them to pretend to be a nutritional counselor or health educator –which they never really signed up to do.
We now know health education is critically important. We know that nutritional counseling is critically important. We know some component of mental health and social support, etc. is very important. We know that environmental influences, both looking at the physical and social environment, also play a big role. Let's make sure that we actually have a system of supporting this, including reimbursement systems and so forth and actually support this more integrative, more comprehensive system of health care. This doesn't have to be just a medical home for prenatal care because now you can have preconception, inter-conception care, family planning, all the things that we know that make that continuum of women's health care over the life course. All of that can be happening in this medical home.
Walker Karraa: Where do you see childbirth education in the model?
Dr. Lu: I think certainly childbirth education needs to be an integral part of that model and that the review and the birth plan–discussing, creating the birthing plan would be important. Many OBs maybe take 5-10 minutes to sit down with the women and go over some of the components about the birth plan. They might take some time to explain what an episiotomy is, the risk and benefits and alternatives to analgesic use during labor, and they might talk about the different modes of delivery, the vaginal, versus instrumental, versus caesarean. But that's about it. They may address some questions that the couple has, but I don't think it usually goes any further than that.
And that's what I'm saying in terms of we can't just ask the OBs to work harder. We're training our OB residents about the importance of nutrition and mental health, etc. and we can ask them to screen for more and more…and I think we should do that; but on the other hand, the system just doesn't work very well. When they're thrown into a private practice setting, or when they're thrown into a clinic where they're seeing two OB patients every fifteen minutes–it just doesn't happen.
So we've got to work a lot smarter than that.
[Editor's note: In tomorrow's installment of this interview series, you will read Dr. Lu's thoughts on how childbirth educators can expand their curricula to include inter-conception information, as well as what our culture can do to better support fathers.]