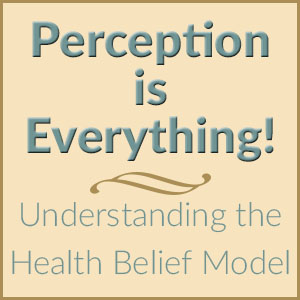 Today, regular contributor Andrea Lythgoe explains what the "Health Belief Model" is and how it may influence the decisions that your students and clients make. As childbirth educators and other birth professionals, we sometimes scratch our head at the choices that some of the families we work with make. When you examine the Health Belief Model – you can get a better understanding of how those decisions might have been reached. On Thursday, Andrea will discuss how you can apply this decision making model in your role as a childbirth educator. – Sharon Muza, Community Manager, Science & Sensibility.
Ever wonder why people make the decisions they do about their pregnancy or birth? Why they stick with an health care provider they clearly don't like? Or why they choose to feed a baby the way they do? Do you, at times, see people make decisions in ways that make no sense to you or are the complete opposite of what you might have decided?
The Health Belief Model was developed over 50 years ago, and it can provide some insight into the way that people make decisions about their health. The Health Belief Model starts with recognizing four factors that can play a role in decision making: perceived benefits, perceived barriers, perceived seriousness, and perceived susceptibility.
Let's look at each of these factors individually:
Perceived Benefits
This one is pretty easy to understand. This is the "why". We all know we should eat healthy and exercise, but we don't always do that. Sometimes it is because we don't understand or can't clearly grasp the benefits, or the benefits are not important to us. Also keep in mind that a benefit that you place a high value on might be of low importance to the families you serve. Remember that this birth is about the benefits the families you work with value, not the benefits you feel are important. For example, you may place a high value on mobility in labor, while a class member may place higher value on pain relief. The family has to feel that the benefits outweigh the costs and inconvenience of the action.
Perceived Barriers
"Perceived barriers" may be keeping people from whatever they "should" do or want to do. Maybe they feel like they can't improve their diet because of limited money. They might feel that they cannot birth at home because of insurance coverage. As a childbirth educator, you may – or may not – be able to help families identify the barriers they face and help them navigate around them. You can preach the benefits all you want, but if a perceived barrier is keeping families from making a change they say they want to make, all your efforts to demonstrate the benefits won't make any difference. Remember that class members will not always feel comfortable disclosing to you the barriers they perceive, and they are not required to disclose them. But specifically asking a family – "Is there anything you feel is holding you back from changing care providers?" or "What I hear you saying is that you want a home birth but have planned a hospital birth. How did you come to that decision?" may help them – and you – to better understand the barriers they perceive.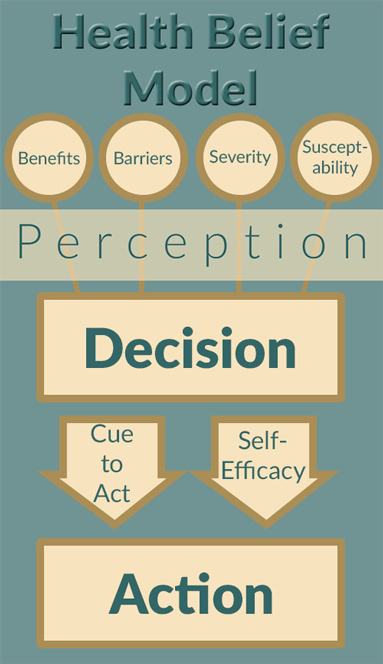 © Andrea Lythgoe
Perceived Severity
How much importance people place on the potential or real consequences of an action is "perceived severity." Do people think it is a "big deal?" With the recent push to avoid inductions, especially before 39 weeks, I am hearing a lot of people state "It can't be THAT risky for the baby. I know lots of people who were induced at 37 weeks and their babies are just fine!" Another common statement is "I formula fed all my kids and they turned out to be a lawyer and a doctor!"
When I was in labor with my second baby, a nurse told me: "Your baby will DIE if we don't have you on the monitor all the time!" Luckily, I knew enough to just laugh and ask her exactly what the monitor did that sustained life. This was the nurse's way of raising the perceived severity in an attempt to get me to stay in bed and stay connected. Sadly, it's not the only time I have heard this strategy used, and I've even heard childbirth educators use a variation of this technique: "If you choose to be induced, your baby will pay the price!" Some people will recognize the hyperbole, but others will only perceive the negative and move into complying solely out of fear, even if that is not what they wanted to do.
Perceived Susceptibility
"Perceived susceptibility" essentially refers to the question "Could this happen to me?" Every person is going to have a different view of what are the chances this could happen to them. Teenagers are pretty notorious for thinking that something won't happen to them. (There's a saying that "all teenagers think they are immortal, invincible, and infertile.") Adults can have a similar attitude, or alternately, they can have an Eeyore-like attitude that "If something bad will happen, surely it will happen to ME."
Sometimes people's feelings of being at risk are heightened by past experiences. A person who needed fertility treatments to become pregnant may feel like their pregnancy is high-risk even if all is well. This is another area where fear plays a big role. It can be a tricky thing to try to help someone adjust their perceptions of risk. Past life experiences can also play a role here. I personally am never going to be completely comfortable with a family's choice not to use antibiotics for GBS, because I lost a niece to GBS over 20 years ago. Your family's experience, or the experiences of those close to them, may all play a role, as can the personal and clinical experiences of your family's health care providers. You could provide statistic after statistic about how rare a birth defect is, and you could explain until you are blue in the face that it is not genetic, but if they or a loved one has experienced a heartbreaking loss, it is natural that they will perceive a greater susceptibility.
Notice the one word connected to all of these factors: PERCEIVED. Perception is key – and your perception may well be different from the perception of the families you serve.
Cue to Action
After considering these factors, remember that something has to motivate them to put that decision into action. In the Health Belief Model, this is called a "Cue to Action." For many people, the pregnancy itself triggers them to start eating healthier, exercise, or quit smoking. For others, different experiences may be their "cue to action". I remember a coworker several years ago who quit smoking cold turkey the first time she felt her baby move, though she had no issues with smoking in pregnancy up until that point.
Self-efficacy
One last factor that can influence decision making is self-efficacy. Self efficacy is how a person feels about their ability to successfully accomplish something. If you have ever heard a pregnant person say "I'd love to do natural childbirth, but I am a wimp. I know I couldn't do it.", then you have observed a classic example of low-self efficacy. Boosting confidence and giving concrete tools to work with can help increase self-efficacy. This is something that you can help with in your role as a childbirth educator
Summary
Childbirth educators can have an effect on all of these factors in the course of their work with childbearing families. It is important for us to be aware, as we communicate childbirth information, that people often make decisions based on how they feel about the information presented, rather than on the facts themselves. In my next post, I'll talk about how this model can be applied to childbirth education and even doula work.
Can you think of decisions that your students or clients make that seem to defy logic? Why do you think they have made those specific choices? Share your observations and experiences in the comments section of this blog. – SM
Sources:
Green, L.W. & Kreuter, M.W. (1991) Health Promotion Planning: An Educational and Environmental Approach Mayfield Publishing Company, Mountain View, CA
Health Belief Model Definition
About Andrea Lythgoe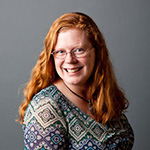 Andrea Lythgoe is a doula, hospital-based Lamaze childbirth educator, birth photographer, and former instructor at the Midwives College of Utah. She is the author of the website UnderstandingResearch.com where she aims to help those just beginning to read research to understand the language of research. Her interest in research started while attending the University of Utah, where she made ends meet by working on a large randomized controlled trial and earned a degree in community health. Andrea served on the Board of Directors for the Utah Doula Association for over 10 years. She lives and practices in the Salt Lake City, Utah area. Andrea can be reached through her website.