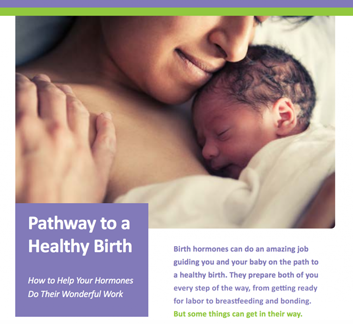 Last week, Dr. Sarah Buckley in coordination with Childbirth Connection released a new research report, "Hormonal Physiology of Childbearing: Evidence and Implications for Women, Babies and Maternity Care." This massive tome gathers in one place, all the current information available on the role of various hormones on pregnancy, labor, birth, breastfeeding and postpartum and provides information on what happens to the processes when interventions are introduced. Well known childbirth educator Penny Simkin reviewed the report on Science & Sensibility on January 13th and then Michele Ondeck followed up with an exclusive Science & Sensibility interview with Sarah Buckley later in the week.
I think that everyone will acknowledge that this report is a remarkable and valuable piece of work, but at over 400 pages if you take into account all accompanying documents and with a bibliography consisting of over 1100 sources, the typical pregnant woman is hardly going to be keeping a copy on their bedside table for some light reading before drifting off to sleep. Today on Science & Sensibility, I would like to highlight the resources and tools that Childbirth Connection has thoughtfully provided that are geared specifically for the consumer. Childbirth educators, doulas and health care providers can access and share these materials with their students, clients and patients.
Pathway to a Healthy Birth – How to Help Your Hormones to Do Their Wonderful Work – consumer booklet
This 17 page colorful consumer booklet is written in easy to comprehend language and illustrated with attractive photographs that show a diverse collection of families. Families are introduced to the hormones of birth and postpartum; oxytocin, beta-endorphins, catecholamines and endorphins. Each hormone has a brief description and a short explanation about the role it plays in childbearing.
Families are told that events can interfere with the intended actions of the childbearing hormones. Birthing women are encourage to think about how activities around them during their labor and birth may interfere with hormones and prevent the hormones from working effectively.
Women learn that hormones prepare her body for an efficient labor and birth. The booklet addresses how women's bodies are prepared by some hormones to handle the pain and stress that may accompany labor. They also find out that the hormones help prepare their babies for the newborn transition. Infant attachment and maternal behaviors are also supported by the role of the hormones.
Follow Angela's Birth Story
Families are introduced to "Angela" and read about her labor and birth story. The story shows how the hormones allow the labor and birth to unfold in support of the normal processes and how small things can have a big impact and disrupt the process. For example, The transition from home to hospital reduces the intensity and frequency of Angela's contractions as a result of interference with the normal hormonal process. The story is filled with lots of strategies to encourage and allow the hormonal effects as they are intended to occur.
It is easy to see from Angela's story, that while labor and birth are hard and do involve pain, with the right support and environment, along with best practices that endorse physiological birth, Angela is able let her body do the work it is designed to do, and have a birth that is very satisfying to her.
"What's Happening"
Accompanying the story is an easy to read guide that demonstrates exactly what the hormones of childbearing are doing at each particular point in Angela's story. Explanations of the role of each hormone as things unfold help families to understand how what happens in their own birth can affect their own birth story and outcome.
What Can You Do
The next portion of the brochure offers steps that families can take to help them identify providers and facilities that support physiologic birth. Lists of questions to ask, tips for making a hospital room comfortable and private, interview questions for their doctor or midwife, how to pick a childbirth class, find a doula, how to determine if medical procedures are necessary and explore less interventive alternatives and more are all there in an easy to digest format. Included are valuable links in the final section that makes the booklet resource rich. There are many web links to get more information about all the topics covered above. This makes the booklet an ideal handout for a childbirth class, doula consultation or meet and greet with potential health care providers.
Infographic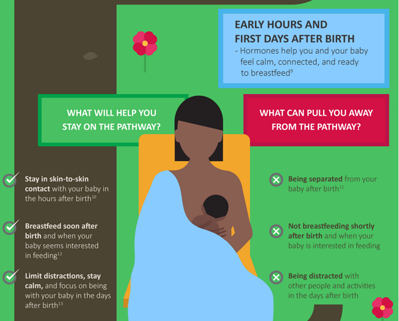 There is a consumer infographic that can be printed in a size suitable for hanging in a classroom or office, or provided in a smaller format that makes a great accompaniment to the above booklet. The infographic identifies things that can keep a woman on the "pathway" to a physiological birth and what can steer her away from the pathway. There is a lot of similarity between the points made in this infographic and the Lamaze Six Healthy Birth Practices.
One teaching idea
After discussing the role of hormones in labor and sharing the infographic as a visual aid, I can easily see how an educator can play a game with her class – making and distributing cards to class members with scenarios on them, and asking families to share if those scenarios and activities are making it easier for the mother to stay on the physiological pathway or what steers her further away and having the students identify which hormones are affected.
We have a responsibility as childbirth educators to share the important role the hormones of childbearing play in supporting healthy mothers, healthy births and healthy babies. Using the Pathway to a Healthy Birth consumer booklet and accompanying infographic as part of your teaching materials provides a simple to understand but effective tool for conveying this information to the families you interact with.
How do you see yourself using these consumer products in your childbirth classes? With your doula clients? Please share your ideas for teaching, discussing and using this material and covering these topics with the families you work with. I would love to hear your thoughts.