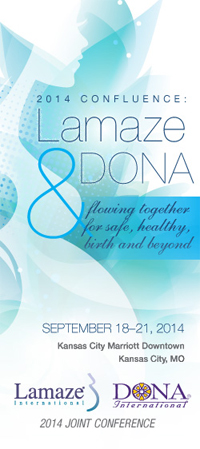 I wanted to use today's blog post to share how grateful I am for all of the continuing education opportunities that Lamaze International offers both Lamaze members and non-members alike throughout the year. Earlier in October, I was able to join other professionals at the annual Lamaze International Conference in New Orleans, LA and just today, I participated in an hour long webinar presented by Jen Kamel entitled "VBAC: Updating Students on Evidence and Practice Guidelines."
I appreciated the annual conference as an opportunity to network and spend time with educators and professionals gathered from around the world. I met Lamaze Certified Childbirth Educators from Turkey, Mexico and Romania as well as across the United States and Canada. I attended sessions on a wide variety of topics, viewed the poster presentations and listened to dynamic Keynote Speakers Amber McCann and Dr. Richard Waldman. I had a chance to learn about the accomplishments that my organization has achieved since the last conference and hear about exciting plans for the future. I met the new Lamaze Board of Directors and heard from our new Board President, Michele Ondeck. I earned 19 continuing education hours through a variety of learning experiences taught by experts who traveled to NOLA from far and wide. It simply was a weekend just jam-packed full of learning, updates and opportunity for all childbirth professionals, not just LCCEs or Lamaze members. It is such a rich opportunity for connection, sharing of ideas, planning collaborations and expanding my knowledge. I know that holding a conference is an immense amount of work for the office staff, the Board and a ton of volunteers, including Conference Planning Chair, Sue Galyen. I am so appreciative of their efforts so that I have the opportunity to participate in such a great learning experience.
And then yesterday I got to turn around and take a free (for Lamaze members, and fairly priced at $20 for non-members) webinar on the topic of VBACs and what I need to know as an educator, so that I can help my students to receive evidence based care. Today's webinar was fast paced, up to date and full of information that I can apply in my classroom right away. The presenter, Jen Kamel of VBACFacts.com really knows her material and presented it beautifully.
This is the fourth Lamaze International webinar I have taken in 2013 alone. Have you been able to participate? I am so grateful that my organization values and offers these learning opportunities and gives me a chance to hear from experts on a variety of topics relevant to my students and myself. And I get to earn contact hours to boot!
The next Lamaze International webinar (free to members!) is scheduled for November 6th. Deena Blumenfeld, a regular contributor to Science & Sensibility will present an hour long session; Making the Most of Your Childbirth Education Business. Deena is the successful owner of a birth business, Shining Light Prenatal and is extremely savvy in social media and building a sustainable childbirth education program.
If you were unable to catch this year's webinars live, you can purchase them for viewing at your convenience, and of course, receive your contact hours. For more information on this opportunity, check out our recorded webinar page on the Lamaze International website.
I am excited to see what learning opportunities Lamaze has planned for 2014. If you have any suggestions on topics you would love to see covered, or even a topic that you would like to have added and are qualified to present, I know that Kacy Reams, who handles Webinar program management, would love to hear from you.
Finally, I was thrilled to read and hear about exciting plans for future conferences. Mark your calendars now for 2014 and 2015 conference events that you will not want to miss. On September 18-21, 2014, Lamaze International joins with DONA International to offer a powerful joint conference; "2014 Confluence: Flowing together for safe, healthy, birth and beyond" in Kansas City, MO. I am very excited about this collaboration between two organizations near and dear to my heart. Then in 2015 , Lamaze International is partnering with ICEA to offer a mega-educator joint conference in Las Vegas, NV on October 8-11, 2015. I was at the last joint conference held by Lamaze and ICEA in 2010, and it was absolutely wonderful. I know the learning opportunities and networking experiences will be priceless.
Lamaze International recognizes the importance of its membership having learning opportunities that are a great value, current, evidence based and useful to a wide variety of professionals. They offer conferences and webinars for you to take advantage of and participate in, with some of these contact hours being offered at no cost to our members. I value an organization that values, promotes and encourages me to continue to expand my skills. Thank you Lamaze! Now, aren't you wondering why you aren't a) a Lamaze Member and b) why you haven't signed up for the great webinars offered regularly yet? What are you waiting for! You can change this now!