An invitation from Linda Harmon, Lamaze International's Executive Director. Please consider joining this interactive webinar and learn how you can help women "Push for Their Baby!" I know I am going to be online and participating! Won't you join me! – SM
__________________
You play an important role in helping pregnant women achieve the safest, healthiest birth possible. Throughout pregnancy and birth, women need strong partners so they can get the maternity care that meets their unique needs.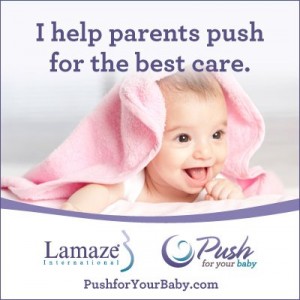 Lamaze's Push for Your Baby effort is aimed at helping women work in partnership with their care providers to achieve the best outcomes. And, we know there's much work to be done. Certain birth practices, such as the overuse of cesarean surgery, early induction and confinement to bed can make it harder for women to have a safe and healthy birth.
As part of our initiative, we're pleased to invite you to join an upcoming educational webinar for nurses and childbirth educators, which will offer one nursing contact hour and one Lamaze contact hour (with the purchase of a post-webinar quiz).
Push for Your Baby Nurse & Educator Webinar
Arming Women with the Tools to Push for the Safest, Healthiest Birth Possible
Friday, November 30, 2012
1:00 – 2:00 p.m. ET
During this webinar, we'll discuss evidence-based research in maternity care, and introduce the latest tools to help nurses and educators support moms-to-be in navigating maternity care decisions. We're excited to take this opportunity to support your important role in helping women recognize the challenges in maternity care and encourage them to speak up and push for better care for themselves and their babies.
Featured speakers include:
Tara Owens Shuler, M.Ed., CD (DONA), LCCE, FACCE, Lamaze President and Director of Continuing Education, Special Projects, & Lamaze Childbirth Educator Program, Duke AHEC Program
Amy Romano, CNM, MSN, Co-Author, Optimal Care in Childbirth: The Case for a Physiologic Approach
Jessica Deeb, RN, LCCE, and new mom
At the conclusion of the presentation, we will open up for a discussion and brainstorming session where we encourage you to share the real challenges you face in helping women get the best maternity care. Our mutual work is important to the health of women and babies, and we look forward to engaging with you on this initiative.
We hope you will join us for this exciting event! Register online to attend.
Best,
Linda Harmon
Executive Director/CEO
Lamaze International
P.S. Stay tuned for additional webinars in 2013 on hot topics and controversies in maternity care.