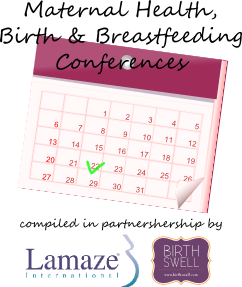 As we say goodbye to 2013 and look ahead to a new year, professionals all over the world are planning to attend a variety of conferences all around the world. For the second year in a row, Lamaze International's Science & Sensibility in partnership with Birthswell, have compiled a comprehensive, continually updated list of conferences, trainings and programs of great interest to anyone working in the field of maternal infant health.
If you are looking for a place to receive continuing education, advance your professional knowledge or would like to present an abstract to be selected for presentation, check out our thorough list found here.
If you want to have your event posted on our comprehensive web page of maternal health, birth and breastfeeding conferences, please use our submission form here to have your conference information included. Be sure that your organization's events are posted so that others can learn more about what you are offering.