Today, November 11th is Veteran's Day in the United States and Americans honor those who have served and continue to serve in the Armed Forces in order to protect our country. Today on Science & Sensibility, regular contributor Walker Karraa, PhD, takes a look at the impact serving in battle has on women who go on to birth. In an exclusive interview with expert Cynthia LeardMann, Walker shares with S&S readers what the study says and receives more indepth information that provides additional insight into just what women in the military face in regards to their increased risk of PPMADs.- Sharon Muza, Community Manager, Science & Sensibility
Introduction
The rate of postpartum mood or anxiety disorders in general US population for new mothers is 10-22%1-3. Although approximately 16,000 active duty women give birth annually4, less is known regarding the prevalence of postpartum mood disorders in this population. In a striking finding, Do et al., (2013)5 recently reported "Service women with PPD had 42.2 times the odds to be diagnosed with suicidality in the postpartum period compared to service women without PPD; dependent spouses with PPD had 14.5 times the odds compared to those without PPD" (p.2)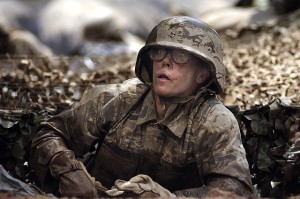 Furthermore, a recent study, Is military deployment a risk factor for maternal depression?6 , examined the relationship between deployment experience before or after childbirth, and postpartum depression in a representative sample of U.S. servicewomen. The objectives included addressing the lack of research regarding maternal depression in military mothers.
I am honored to have had the opportunity to interview Cynthia A. LeardMann, MPH, Senior Epidemiologist at the Henry M. Jackson Foundation, Naval Health Research Center, and Department of Deployment Health Research regarding this important study. Particularly, I inquired as to how childbirth educators might integrate this data in practice, and how childbirth education might be suggested for future intervention.
Walker Karraa: Can you describe for our readers how the rate of maternal depression was found to be attributed to experiencing combat while deployed?
Cynthia LeardMann: In this study, the rate of maternal depression was highest among women who deployed to the recent conflicts and reported combat experiences. Among women who gave birth, 16 to 17% screened positive for maternal depression who deployed and had combat-like experiences prior to or following childbirth. Rates were between 10 and 11% for women who did not deploy and between 7 and 8% for women who deployed and did not report combat-like experiences.
Moreover, we found that women who deployed after childbirth and experienced combat had twofold higher odds of screening positive for maternal depression compared with women who did not deploy after childbirth, after adjusting for prior mental health status, and demographic, behavioral, and military characteristics. However, this increased risk appeared to be primarily related to experiencing combat rather than childbirth experiences.
WK: Working with the Millennium Cohort Study7 benefitted the ability to investigate the relationship between military deployment and increased risk of maternal depression. Can you briefly describe the MCS and the process of working with it?
CL: Launched in the summer of 2001, the Millennium Cohort Study is the largest longitudinal study of military service members, including active duty and Reserve/National Guard members from all services. The primary study objective is to evaluate the impact of military service on long-term health. Since family relationships play an important role in the functioning and well-being of US military service members, in 2011 the Millennium Cohort Study was expanded to include spouses of military personnel. The overarching goal of this Family Study is to assess the impact of military service and deployment on family health.
Crisis line resources for active military and their families

1-800-342-9647

Crisis line resources for veterans and their families

1-800-273-8255 (press 1)

Online chat is also available
WK: It was interesting that the rates were higher for women in the Army as compared to women serving in US Air Force or US Navy. Can you share the thinking around possible reasons for that difference?
CL: Women serving in the Army may be deployed longer and more frequently than those serving in the Air Force and Navy. In addition, there may be more ongoing imminent fear of deployment and while on deployment they may experience more intense or severe combat-like exposures, which may lead to increased risk of depression.
WK: How did you define combat-like exposure for your sample?
CL: Deployed women were classified as having combat-like exposures if they reported personal exposure to one or more of the following in the 3 years prior to follow-up: person's death due to war, disaster, or tragic event; physical abuse; dead and/or decomposing bodies; maimed soldiers or civilians; or prisoners of war or refugees.
WK: One of the recommendations from your study was the need for early intervention and reintegration programs for service personnel. What are some examples that you would hope to see in the future? What role do you see childbirth education playing in the prevention or early intervention of maternal depression in military personnel?
CL: Currently there are some programs that focus on supporting service members and families before, during, and after deployments, such as the Yellow Ribbon Reintegration Program. This DoD (Department of Defense)-wide effort prepares Reserve and National Guard families for the challenges of deployment, educates them on programs that are available to help ease their concerns about reintegrating into the community, and provides information about seeking mental health care. While more services and programs are needed, these types of resources may successfully reduce the emotional and psychological impact of deployment. Childbirth education may play an important role as it may help couples understand and identify various feelings and symptoms related to mental disorders that may arise after childbirth. If educated, the mother or her partner may be more aware of certain symptoms and feel more comfortable seeking mental healthcare.
WK: The rate of comorbid PTSD in women who screened positive for depression was high (58%). Given what we know about the prevalence of PTSD following a traumatic childbirth in general population, what are your thoughts regarding how traumatic childbirth may have played a role?
CL: We did not obtain any data on the childbirth experience itself, but it is possible that non-combat traumatic experiences, including traumatic childbirth, may have increased the risk for depression with comorbid PTSD.
WK: Would data on mode of delivery be useful in future studies?
CL: The Millennium Cohort Study does not currently obtain data on mode of delivery, but we could investigate mode of delivery among active service members using medical data records. We do not have current plans to examine mode of delivery, but it may be useful in future studies.
WK: What is the next phase of this important research?
CL: Currently, we are investigating the potential association between deployment and other related reproductive outcomes, like miscarriages and perceived impaired fecundity. We are also planning to examine depression among military spouses. We would like to better understand the inter-relationships and associations between service members and their spouses, including maternal depression and reproductive health outcomes.
WK: Many of our readers work with military families as childbirth professionals (doulas, lactation consultants, midwives, and childbirth educators). How would you recommend childbirth professionals integrate the findings in your study?
CL: The current findings add further evidence that screening and early intervention of depression among new mothers is critical, since parental depression can have a profound and lasting impact on children and families. In addition, the findings support the need for effective post deployment social support and reintegration programs, especially for women who have had combat-like experiences during deployment.
Conclusion
The service of the women in our military is a dedication for which I am grateful and humbled. The findings here underscore the critical need for better screening, intervention, and social support for childbearing women in the military who see combat during deployment.
As childbirth professionals, how do you see your role in supporting military women with mental health? And how might Lamaze become a champion in this area?
Acknowledgements
I would like to extend my appreciation to Ms. LeardMann for agreeing to the interview, and taking the lead in getting approval for its content. Additional acknowledgement is extended to military personnel who participated in reading, reviewing and clearing the content for publication. And thanks to Sharon Muza for her continued support of the research regarding perinatal mood and anxiety disorders.
References
Gaynes BN, Gavin N, Meltzer-Brody S, et al. (2005). Perinatal depression: Prevalence, screening accuracy, and screening outcomes. Evidence Report/Technology Assessment No.119. Rockville, MD: Agency for Healthcare Research and Quality, No. 05-E006-2.
O'Hara MW, Swain AM. (1996). Rates and risk of postpartum depression: A meta-analysis. Int Rev Psychiatry,8, 37–54.
Peindl KS, Wisner KL, Hanusa BH. (2004). Identifying depression in the first postpartum year: Guidelines for office-based screening and referral. Journal of Affect Disord,80, 37–44.
Rychnovsky, J. & Beck, C.T. (2006). Screening for postpartum depression in military women with the postpartum depression screening scale. Military Medicine,171, 1100-1104.
Do, T., Hu, Z., Otto, J., & Rohrbeck, P. (2013). Depression and suicidality after first time deliveries during the postpartum period, active component service women and dependent spouses, U.S. Armed Forces, 2007-2012. Medical Surveillance Monthly Report, 20(9), 2-9.
Nguyen, S., Leardman, C.A., Smith, B., Conlin, A. S., Slymen, D. J., Hooper, T. I., Ryan, M. A. K., & Smith, T. C. (2013). Is military deployment a risk factor for maternal depression? Journal of Women's Health, 22(1), 9-18. doi: 10.1089/jwh.2012.3606
Smith, T.C. (2009). The U.S. Department of Defense Millenium Cohort Study: Career span and beyond longitudinal follow-up. Journal of Occupational and Environmental Medicine, 51, 1193-1201
About Walker Karraa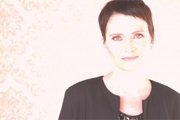 Walker Karraa, PhD is a perinatal mental health researcher, advocate and writer. She is currently a regular perinatal mental health contributor for Lamaze International's Science and Sensibility,Giving Birth With Confidence, and the American College of Nurse-Midwives (ACNM) Midwives Connection.Walker has interviewed leading researchers and providers, such as Katherine Wisner, Cheryl Beck, Michael C. Lu and Karen Kleiman. Walker was a certified birth doula (DONA), and the founding President of PATTCh, an organization founded by Penny Simkin dedicated to the prevention and treatment of traumatic childbirth. Walker is currently Program Co-Chair for the American Psychological Association (APA) Trauma Psychology Division 56. She is writing a book regarding her research on the transformational dimensions of postpartum depression. Walker is an 11 year breast cancer survivor, and lives in Sherman Oaks, CA with her two children and husband.