I taught hospital based childbirth classes for 6 years prior to changing gears and teaching independently in my community. Teaching evidence-based information and current best practice in my hospital class always left me feeling anxious and on edge. Eventually, I made the decision to hang out my own shingle, and after just a few of my "own" classes, I knew I had definitely made the right choice for me.
If you have ever struggled with the same challenge, are considering what your teaching options are or feel alone in your attempts to cover the best evidence in your hospital classes, then Lamaze International has a free webinar for you that you won't want to miss.
Kathryn Konrad, MS, RNC-OB, LCCE, FACCE will be leading a webinar, "How to Teach Evidence-Based Childbirth Classes and Still Keep Your Job" on Wednesday, May 22, 1:00-2:15 PM EST.
Childbirth educators including RNs, LPNs lactation consultants, midwives, doulas and others who teach childbirth education in a hospital setting may find it challenging to push for safe and healthy birth outcomes. The purpose of this webinar is to examine the conflicts that may arise when hospital-based childbirth educators teach evidence-based content that is in conflict or inconsistent with hospital and/or provider policies and practices, and to investigate strategies for promoting best practices.
After attending this webinar, learners will be able to:
• Identify potential conflicts of interest when teaching childbirth education classes in a hospital setting;
• Describe strategies for empowering pregnant women to advocate for their preferences regarding evidence-based maternity care and;
• Develop strategies for promoting evidence-based birth practices within a hospital setting.
Contact hours are available. This program has been planned by Lamaze International for 1.1 hours of CNE credit. To earn credit, attendees must register for the event, attend the entire 75 minute webinar, and complete an online evaluation within the specified time period. This program has also been approved for 1.0 Lamaze contact hours. See the registration page for more details. You do not have to be a Lamaze member to attend the webinar, but you are asked to create a profile in order to register.
This is a great opportunity to learn how to be successful as a hospital based childbirth educator and navigate some of the challenges that occur when you teach for a hospital. You will not want to miss this webinar scheduled for tomorrow. Make some time in your schedule, and register now! Come back and share your thoughts in our comments section on the topic and your experiences as a hospital based childbirth educator. I know the discussion will be lively.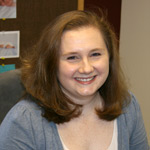 Kathryn Konrad has educational experience overseeing the development and presentation of childbirth, breastfeeding and parenting classes in both hospital and community settings. Currently she is an instructor at The University of Oklahoma College of Nursing. She received a Bachelors of Science degree from the University of Central Oklahoma in 2000 and a Masters of Science degree with an emphasis in Nursing Education from The University of Oklahoma Health Sciences Center in 2008. She has been Lamaze Certified Childbirth Educator since 2006, an RNC-OB since 2005 and a labor and birth nurse since 2000. She was inducted as a Fellow in the Academy of Certified Childbirth Educators in 2011. She offers workshops on evidence-based labor support for nurses and nursing students.