This month's "Brilliant Activities for Birth Educators" is one of my old standbys. I use it frequently at the beginning of a series class. Last week I started a new seven week series and did it again on the first night, and I really enjoy how this activity effectively meets many of my learning goals for the families in attendance. It is also simple and easy, requiring little in the way of materials and supplies! After this activity, families are able to discuss the location and purpose of anatomical structures important to the childbearing year, connect and engage with other families in the class and briefly discuss some common pregnancy changes (and discomforts) that result from a progressing pregnancy.
"I Can Draw Birth Anatomy and So Can You!"
Introduction
I often start the class out with this activity up first – even before introductions. It works great as an icebreaker and gets people connecting in small groups. Families are up and out of their seats moving around the classroom. Lots of laughter assures me that people are settling in and relaxing, ready to build confidence in their ability to birth by having fun and connecting with their community. Before the students arrive, I have placed the very largest newsprint I have up on the walls in several locations around the room. I like to have two or three families working on one piece of paper, so I plan accordingly
How it unfolds – the instructions
At the start of class – I ask the families to self select into groups of two or three families and head to a piece of paper. I pass out the colored markers to everyone. Each family gets their own laminated anatomy parts card. "As we move through our childbirth classes, we are going to be talking a lot about the amazing body and its many parts. I always think it is a good idea to understand what these parts are called, where they are located and what they do. In order to do this, I am asking you all to draw and label your own anatomy charts. Use the list as a guide, take turns and have fun. You have 8 minutes."
The drawing begins
People quickly jump to the task, taking turns drawing and labeling the different body parts on their newsprint. I circulate throughout the room, connecting, admiring and keeping things focused and moving along. There are usually peals of laughter, lots of discussion and very engaged families. The time flies by and I give the one minute warning that encourages them all to wrap up. Before we all sit down again, we do a "gallery walk" and move through the room visiting all the posters, admiring and laughing some more.
My turn
Once we are all seated again, I compliment the class on the excellent job and take out my own standard anatomy chart of the non-pregnant and full-term pregnant woman. I point out the parts they were asked to draw on my chart and discuss the unique details of each. For example, when discussing the umbilical cord, we talk about how many veins and arteries, the reason the cord is often coiled, the average length of an umbilical cord and the function of Wharton's jelly. The position of the bladder under the baby's head allows us to talk about frequent urination as the baby grows. We move through all the parts and I continue to point out the function and unique and interesting facts. I also weave in common discomforts and use the charts to demonstrate why they might have heartburn, shortness of breath, or a back ache.
The takeaway
While I certainly can cover anatomy for birth without the small group drawings, the families are spending the first minutes of the first class building community, connecting with each other in small groups, sharing a common goal and laughing while identifying the important body parts that we will be discussing. I can then move confidently move on to group introductions and some of the more mundane housekeeping information that always needs to be shared. But we are quickly through that and on to another fun activity.
Parent feedback
Families like to take pictures of their drawings and almost immediately the nervous tension of being at the "first childbirth class" has been broken with the fun and laughter. If families are late to arrive, it is easy to join a group and quickly participate without much lead in from me. The pregnant people enjoy seeing non-pregnant partners "struggle" to identify various parts and everyone reports that the "gallery walk" is almost as much fun as the drawing activity. The families report that they leave this activity with some great images of the amazing pregnant body and the understanding of how everything works together to support and grow their beautiful babies.
Conclusion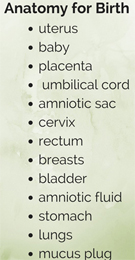 This fun activity is a great icebreaker for a new class. Interactive and self-paced, families laugh and connect over a common goal. Do you think you might try something like this in your class? Do you do something similar already? How might you modify this activity to meet the learning objectives you have for your birth anatomy section? Share your thoughts in the comments section below. I would love to hear them!