It is thought that traumatic childbirth affects up to 34% of all birthing women, but frequently there is inadequate prenatal preparation for what to do if an individual woman has this experiences and scant resources for women seeking support and help. The experiences are minimized and our society creates a fence of isolation that women with birth trauma are surrounded by. Today, Walker Karraa, PhD reviews a new book geared for professionals and interviews the author, Cheryl Beck, DNSc, CNM, FAAN, so that we can be better prepared to recognize trauma, support women and provide resources. What are you doing as a birth professional and childbirth educator to help women who may be at risk or or who have experienced birth trauma? – Sharon Muza, Science & Sensibility Community Manager
…a fascinating and full-bodied presentation of the emerging understanding of the impact of traumatic childbirth on mothers, fathers/partners, and providers.
Traumatic Childbirth1 should be required reading for any birth professional. The trifecta of midwife, pre-eminent researcher and Distinguished Professor at the School of Nursing, University of Connecticut, Cheryl Tatano Beck, clinical nurse specialist in psychiatry, psychotherapist and author Jeanne Watson Driscoll, and survivor, activist and founder of TABS Sue Watson, provides the most comprehensive resource on traumatic childbirth for health professionals to date.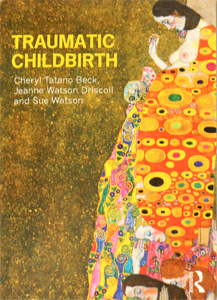 Since Cheryl Beck's ground-breaking research, Birth trauma: in the eye of the beholder (2004a), health providers, researchers, and birth professionals have applauded the relevance and strength of Cheryl Beck's research regarding traumatic childbirth. Her research has covered PTSD following traumatic childbirth3-4, the experience of the anniversary of birth trauma5, breastfeeding after a traumatic birth6, subsequent birth after a previous traumatic birth7, secondary trauma experienced by labor and delivery nurses exposed to traumatic birth8, and multiple publications on research methods and birth trauma 9-12.
In 2006, Cheryl and Jeanne Watson Driscoll (co-author of the landmark Women's moods: What every woman must know about hormones, the brain, and emotional health13) collaborated on wdhat is still considered a clinical tour de force in perinatal mood and anxiety disorders, Postpartum mood and anxiety disorders: a clinician's guide14.
TABS (Trauma an Birth Stress) was founded by Sue Watson and colleagues in 1998 and continues to offer current resources and support regarding traumatic childbirth.
In Traumatic Childbirth, Cheryl, Jeanne, and Sue offer their individual expertise as researcher, clinician, and activist and combined wisdom of nearly two decades of work in the field. The result is a compelling read and review of current literature. The case studies are profound examples of the lived experiences of traumatic childbirth. Additionally, after each case Jeanne and Sue offer their own perspectives. It is a fascinating and full-bodied presentation of the emerging understanding of the impact of traumatic childbirth on mothers, fathers/partners, and providers.
I am honored to have had the opportunity to ask Cheryl some questions for Science and Sensibility regarding how childbirth professionals might use Traumatic Childbirth in practice. I know that you will find her insights both useful and encouraging.
Walker Karraa: How has the definition of traumatic childbirth evolved since you began your work?
Cheryl Beck: In the beginning of my research traumatic childbirth was viewed as an event that occurs during labor and delivery that involved actual or threatened serious injury or death to the mother and or her infant. After my first 2 studies on birth trauma and its resulting PTSD what I learned was that traumatic childbirth can also occur even if a woman does not perceive that she or her infant is at risk for serious injury or death. Women can perceive their birth as traumatic if they perceive that they were stripped of their dignity during the birthing process.
WK: How does loss of dignity play a role in the traumatic birth?
CB: One of the most frequent phrases I hear mothers using to describe their traumatic their birth to me was "I felt raped on the delivery table with everyone watching and nobody offering to help me." Some women shared that they felt like a piece of meat on an assembly line. Women did not feel cared for by the obstetrical team. To me this lack of caring stripped women of a protective layer during their labor and delivery and left them prime to perceive their birth as traumatic.
WK: How important is it for childbirth professionals to understand the subjective experience of childbirth trauma when working with clients?
CB: It is essential for childbirth professionals to hear and really listen to the voices of mothers as they describe what it was about their labor and delivery that was so traumatic. As the title of my first research study tried to impress upon health care providers, birth trauma is in the eye of the beholder. What one woman perceives as a traumatic birth may be viewed quite differently through the eyes of obstetric staff that may see it as a routine birth.
WK: What are some of the ways childbirth educators, doulas, and lactation consultants might use Traumatic Childbirth in developing curriculum or direct service to clients?
CB: Childbirth educators, doulas, and lactation consultants can use the various chapters in Traumatic Childbirth to develop a series of classes for education. Examples of some of these chapters in the book include:
Risk factors for postpartum posttraumatic stress
Assessment and diagnosis
Instruments to screen for PTSD
Impact of traumatic childbirth on breastfeeding
Anniversary of birth trauma
Subsequent childbirth after a previous traumatic birth
Treatment methods for PTSD
Fathers and traumatic childbirth
WK: As doulas are increasingly becoming a part of birth team, they too are exposed to traumatic births that may lead to distress, impairment and disability in their work. Given the findings in your recent study11 regarding secondary traumatic stress for labor and delivery nurses, I wonder what your thoughts are regarding how doulas might prepare, or even prevent secondary trauma for themselves using Traumatic Childbirth?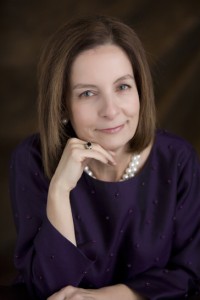 CB: In 1989 Charles Figley15 first wrote about the "cost of caring" for supporters of traumatized victims. He called it secondary traumatic stress or compassion fatigue. Doulas who have built up such a close relationship with the women they are supporting through labor and delivery certainly are at risk of developing secondary traumatic stress. Continuing education is a must for doulas to learn about their risk of secondary traumatic stress and the symptoms they should be watching. Self-awareness of these symptoms is essential so that doulas can get the help they need. Doulas need to learn how to nourish their mind-body-spirit. Debriefing sessions, support groups, and opportunities for doulas to share the traumatic childbirths they have been present for are necessary.
WK: I so appreciate the inclusion of fathers in your book. When I was practicing as a doula I had several fathers who they themselves had risk factors for traumatic stress due to experiences in military or law enforcement. Knowing that upfront, we were able to strategize labor and birth in ways to mitigate exposure to triggers (i.e. < seeing too much blood, not being able to see an open door, etc.). How could Traumatic Childbirth help childbirth educators include partners in the conversation about traumatic childbirth?
CB: Researchers are finding that fathers can also develop posttraumatic stress symptoms as a result of being present at their partner's traumatic childbirth. This possibility for fathers should be address in one of the childbirth classes. As one father in a research study of mine and Sue Watson's shared "I am on an island watching my wife drown and I don't know how to swim! I not only do not know how to swim but I was drowning myself. But I am a man, I do not need help-John Wayne, you know. I was fooling myself at the expense of my wife and myself." This quote impresses on childbirth educators their responsibility to also be helping the fathers and support them if he and his partner have experienced a birth trauma.
WK: One of the things I note is that we don't yet have support systems within childbirth organizations to help our childbirth educators and doulas seek support for themselves, or colleagues who suffer extreme distress after attending traumatic births. This is particularly devastating for new doulas who may not know their own risk factors, or the signs and symptoms of traumatic stress following exposure to traumatic childbirth. What are some ways childbirth organizations such as Lamaze can use Traumatic Childbirth to inform policy and prevent secondary traumatic stress in doulas and childbirth educators?
CB: At the annual conferences of these organizations, workshops, sessions, or keynotes on secondary traumatic stress due to traumatic childbirth are a must. The first step in helping to prevent this or minimize secondary traumatic stress is education. Breakout sessions at the conferences could be offered by a mental health care professional for doulas, lactation consultants, and childbirth educators to provide an opportunity for them to share their traumatic experiences.
Conclusion
For those who have followed the research on traumatic birth, this book has been a long time coming! Traumatic Childbirth is a highly readable, compelling and comprehensive collection of research, practice, and perspective that speaks to the birth professional's sensibilities. I highly encourage the discussion of implementing this material as required reading, and instituting the suggestions of debriefing workshops for professionals. I look forward to hearing your thoughts on this, as well as the book!
I know I speak for so many in thanking Cheryl Beck for her input, and to both Jeanne Driscoll and Sue Watson for their tremendous contributions in Traumatic Childbirth, and their dedication to the prevention and treatment of traumatic birth.
References
Beck, C. T., Driscoll, J.W., & Watson, S. (2013). Traumatic childbirth. New York, NY: Routledge.
Beck, C. T. (2004). Birth trauma: in the eye of the beholder. Nursing research, 53(1), 28-35.
Beck, C. T. (2004). Post-traumatic stress disorder due to childbirth: the aftermath. Nursing Research, 53(4), 216-224.
Beck, C. T. (2011). A metaethnography of traumatic childbirth and its aftermath: Amplifying causal looping. Qualitative Health Research, 21(3), 301-311.
Beck, C. T. (2006). The anniversary of birth trauma: failure to rescue. Nursing research,55(6), 381-390.
Beck, C. T., & Watson, S. (2008). Impact of birth trauma on breast-feeding: a tale of two pathways. Nursing Research, 57(4), 228-236.
Beck, C. T., & Watson, S. (2010). Subsequent childbirth after a previous traumatic birth.Nursing research, 59(4), 241-249.
Beck, CT, & Gable, RK (2012). A mixed methods study of secondary traumatic stress in labor and delivery nurses. Journal of Obstetric Gynecological and Neonatal Nursing, 41, 747-760. doi:10.1111/j.1552-6909.2012.01386.x
Beck, C. T. (2005). Benefits of participating in Internet interviews: Women helping women.Qualitative health research, 15(3), 411-422.
Beck, C. T. (2006). Pentadic cartography: Mapping birth trauma narratives. Qualitative Health Research, 16(4), 453-466.
Beck, C. T., Gable, R. K., Sakala, C., & Declercq, E. R. (2011). Posttraumatic Stress Disorder in New Mothers: Results from a Two‐Stage US National Survey. Birth, 38(3), 216-227.
Beck, C. T. (2009). Critiquing qualitative research. AORN journal, 90(4), 543-554.
Sichel, D., & Driscoll, J. W. (1999). Women's moods: What every woman must know about hormones, the brain, and emotional health. New York: William Morrow.
Beck, C. T., & Driscoll, J. (2006). Postpartum mood and anxiety disorders: A clinician's guide. Jones & Bartlett Learning.
Figley, C. R. (Ed.). (1989). Treating stress in families (No. 13). Psychology Press.