By Christine Morton, PhD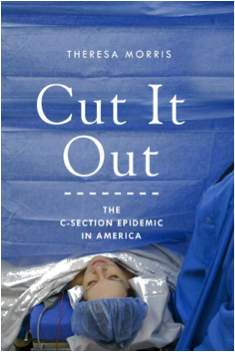 What accounts for the dramatic rise in cesarean delivery in the United States over the past two decades? In her new book, Cut it Out: The C-Section Epidemic in America, sociologist Theresa Morris addresses this question by going to the source: she interviewed maternity clinicians (obstetricians, midwives and labor and delivery nurses) as well as women who had recently given birth. She examines guidelines from the major professional group of obstetricians and gynecologists. Morris goes beyond simply documenting the rise in C-sections, the health risks they pose to women and their babies, although she does that very well. To explain how we got to an epidemic of c-sections in the U.S, she applies an organizational lens, making it clear how "organizational changes constrain the decisions and behaviors of maternity providers and women."
This way of looking at c-sections will be useful for childbirth educators, doulas and childbearing women because it goes one step farther than most research on c-sections, which demonstrate trends and possible associations between clinical causal factors, or characteristics of women. It is also different from advocacy around c-sections that largely frames the issue as one of individual agency or rights ("women must advocate and prepare for vaginal birth," or "women have right to informed choice"). And although we have some research on how organizational structure impacts c-section rates, such as teaching hospitals and health maintenance organizations (HMOS), absent from these studies are explanations as to why this is so. Morris argues that the research on c-section epidemic is missing an "understanding that is rooted in the experience of maternity care providers and pregnant women" (p. 21).
While most childbirth educators and doulas have a good understanding of pregnant women's experience, Morris takes the reader into the perspectives of a range of maternity clinicians, arguing that organizational policies and procedures constrain their actions. We can't blame individual clinicians for the high c-section rate, she argues, nor can we hold them responsible for reducing it. Social constraints on individual behavior are very powerful and need to be understood if they are to be changed. As many sociologists have observed, deviance from social norms has real consequences for individuals. Imagine yourself riding in an elevator filled with people you don't know, with your back to the doors. It's not easy to do. Morris notes, "Maternity providers may face professional consequences for deviance—for example, being informally scolded by colleagues, formally reprimanded by a supervisor, or having a malpractice insurer deny coverage in a case of a bad outcome" (p. 22). By talking to maternity clinicians about how they see the problems, and what they do about them, Morris is able to show how obstetricians are also caught in systems not of their own making.
"Hospitals are organizations with fixed rules to guide individual behavior" (p. 22) and this applies to all individuals within organizations. Morris has provided a nuanced and rich picture of what she calls the "organizational paradox, in which the increasing rates of c-section do not protect the health of women or babies or make birth safer or good outcomes more likely," and argues that if we look at the c-section rate as the result of how health care organizations respond to their legal, political and economic environments, we can understand, and hopefully change, the system.
I found one of the most compelling sections of her argument in her discussion of the patient safety movement and its emphasis on standardized protocols, language and peer review. Until very recently, c-section rates were not considered part of the patient safety movement in obstetrics. Morris shows that when a hospital embarks on patient safety initiatives, with the goal of malpractice claims due to a bad baby outcome, these initiatives often result in an increase, or at best, no change in c-section rates.
Morris also reviews how doctors frame risks of VBAC vs. repeat c-section in ways that foreground the statistically rare risk of uterine rupture (indeed, the more dangerous rupture vs. the more common, but still rare, occurrence of uterine dehiscence). The more common risk to women of repeat c-section is often not included. Here we see how possible risks for the baby (and to the physician in the event of a bad outcome) are prioritized over risks to women's health. Organization pressures influence how these risks are defined and described to women, says Morris.
"Any effort to resolve the c-section epidemic requires organizational solutions" (p. 153).
The stakes are high, and unless there is concerted and coordinated effort to reduce the c-section rate through organizational and policy change, we are unlikely to see a downward trend. Morris concludes, however, by listing what individual women and maternity clinicians can do to help solve the c-section epidemic. For women, this includes learning about and advocating for evidence-based care, with the assistance of independent childbirth educators and birth doulas, and finding maternity physicians and hospitals with low rates of c-section. Maternity providers, she notes, may find it helpful to be up front with women about the risks of childbirth, and that even with best of care, sometimes things go wrong. The policy and social changes Morris recommends are quite sweeping and it's not clear where political will for these will come, but happily, there are some efforts being made on the organizational solutions she proposes. In particular reporting of c-sections as a quality measure will be required by The Joint Commission as of January 2014 for hospitals with more than 1100 births/year. A recent publication on Preventing the first cesarean delivery summarized the evidence from a joint workshop held by the Eunice Kennedy Shriver National Institute of Child Health and Human Development, Society for Maternal-Fetal Medicine, and American College of Obstetricians and Gynecologists.
In this YouTube video, author Theresa Morris shares why she wrote Cut It Out: The C-Section Epidemic in America.
Here are several more videos in the video series, where Theresa talks about the cesarean epidemic
This book is highly recommended for all childbirth educators, doulas and other maternity care professionals who wish to help pregnant women understand how the organization in which they are giving birth will likely shape both they, and their maternity clinicians' actions. Yet, it also holds out the promise of hopeful change, especially when it is clear that many of these efforts are underway. With states seeking ways to drive down costs and with support from national government action focusing on maternal health, more pressure from payers, women and maternity care advocates, we can look forward to reducing c-sections and turning the tide of this epidemic. Let's discuss what we can do to bring down the c-section rate.
About Christine Morton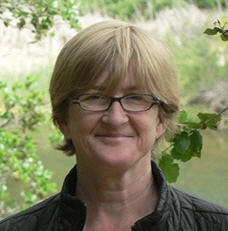 Christine Morton
Regular contributor Christine H. Morton, PhD, is a sociologist whose research on doulas is the topic of her forthcoming book, with Elayne Clift, Birth Ambassadors: Doulas and the Re-emergence of Woman-Supported Birth, which will be published by Praeclarus Press in Fall 2013. Christine is also a new member of Lamaze International's Board of Directors. For more on Christine, please see Science & Sensibility's Contributor page.