August 1-7th was World Breastfeeding Week, and the entire month of August was National Breastfeeding Awareness Month. Science & Sensibility shared information and resources in two posts; Breastfeeding and Work – Let's Make It Work! Join Science & Sensibility in Celebrating World Breastfeeding Week and Happy World Breastfeeding Week! The Celebration Continues with More Free Resources, along with a "Brilliant Activities for Birth Educators: Nine Ideas for Using Knit Breasts in Breastfeeding Classes" post for those who teach expectant families.
This week we want to recognize and honor Black Breastfeeding Week (August 25-31, 2015) and share information about the "Lift Every Baby" awareness campaign that is the theme of this year's program. Black Breastfeeding Week is designed to raise awareness and provide support in black communities. Both the initiation rate and the duration rate of breastfeeding in black families has been lower than the rates in white families for more than four decades. Low birth weight, preterm deliveries and maternal complications such as preeclampsia are all higher in black women and the black infant mortality rate is more than twice that of white babies. Breastfeeding and the important benefits it provides can help all babies, but for the most vulnerable and the sickest, breastmilk is a critical component that can mean the difference between life and death.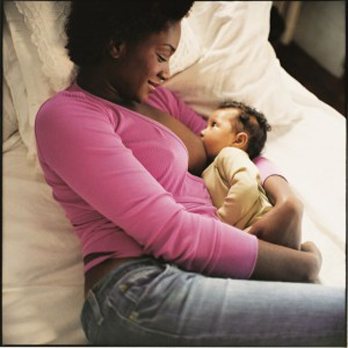 Black Breastfeeding Week was established three years ago by three women, Kimberly Seals Allers, Kiddada Green and Anaya Sangodele-Ayoka, all leaders in the field of maternal child health, with a focus on families of color. In the past three years, attention, discussion and events focused on supporting Black Breastfeeding Week have only grown as people of all colors recognize the health disparities that exist right here in the United States, between white families and black families that have lifelong impacts, simply due to the color of one's skin.
Kimberly Seals Allers wrote an excellent commentary on why there is a need for Black Breastfeeding Week.
There are many activities around the country to support Black Breastfeeding Week. A full event list can be found here. On August 29 at 3 PM EST the first nationally coordinated "Lift Up" will be held in various cities across the United States. Black families will join together at different meeting points across the country to "Lift Up" their babies, regardless of their size or age, to recognize the importance of community support for children.
There will also be the first ever Twitter chat (#LifeEveryBaby) in honor of Black Breastfeeding Week, scheduled for tonight, August 27th at 9 PM EST that you are invited to participate in.
Cara Terreri, from Lamaze International's blog for parents, Giving Birth With Confidence, has compiled a list of black breastfeeding resources that you should be aware of:
Black Breastfeeding Week website & Facebook page
"It's Only Natural," – CDC & Office of Women's Health breastfeeding guide for African American families
Black Women Do Breastfeed website & Facebook page
Your Guide to Breastfeeding for African American Women
You can also find more information and resources on the Black Breastfeeding Week Resources and Toolkit page.
Additionally, I would like to refer you to two previous posts in our "Welcoming All Families" series, written by Lamaze educator and lactation consultant Tamara Hawkins, discussing welcoming families of color to your classes. Working with Women of Color and Working with Women of Color – Educator Information can help educators create and provide applicable classes and information to the families of color joining their classes.
Black Breastfeeding Week is an important event that can help create awareness for the importance of culturally relevant and accessible breastfeeding support and information for black families. Childbirth educators and other birth professionals should be ready to provide resources that can help close the gap to the families they work with. Are you participating in any Black Breastfeeding Week events? Let us know in the comments section and please, let us all join together to "Lift Every Baby."