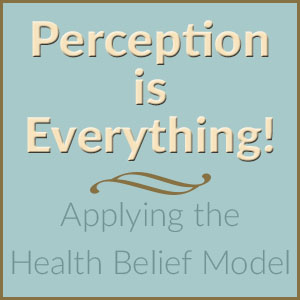 Last Tuesday, in part one of this two part post series, Andrea Lythgoe explained the Health Belief Model in her blog post Understanding the Health Belief Model. Andrea discussed the different components that make up this model. As we learned, perception is key and there are several different ways that a family's perception of their circumstances can influence their decision making. Today on Science & Sensibility, Andrea discusses how the childbirth educator or other birth professional can use this knowledge about the Health Belief Model to structure conversations and activities that assist families in making important decisions about their maternity care. – Sharon Muza, Science & Sensibility Community Manager
So how does this Health Belief Model come into play with childbirth education? It is important to remember that as childbirth educators, our role is not to be manipulative and push families towards certain goals. Our responsibility is to present evidence based information so that families can make decisions that feel right for them.Here are some approaches we can use that make use of this model when fostering decision making skills in the families that attend our classes:
Perceived Benefits
Childbirth educators can provide families with information about the benefits and risks of the choices they are considering, and introduce other options they might not have considered. For example, I frequently have families in my classes who are unhappy with their care provider. I can help the family understand the benefits of more clearly communicating their birth preferences with their care provider to make sure that the HCP is on board. I can point out that they may find switching to a different care provider or birth place potentially more compatible with their own preferences, and give them tools to explore, evaluate, and choose the option that feels right to them.
Perceived Barriers
Childbirth educators can carefully listen for and identify the barriers that families perceive exist. You may be able to correct misinformation that a family believes prevents them from making a change they wanted to make. Be a MythBuster! Proactively address and correct myths that might be perceived barriers for your students and clients.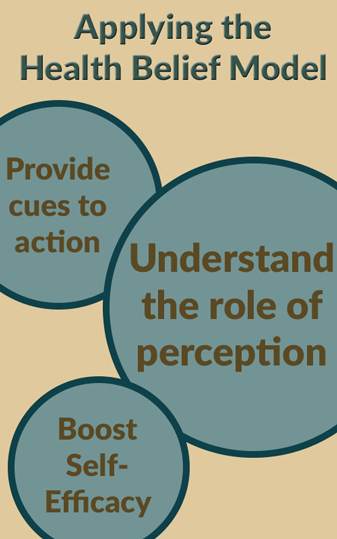 Perceived Seriousness
Childbirth educators can help families to recognize, investigate and accurately understand the risks of choices they may encounter. We can give them tools to discuss and understand the "culture of risk" so that they have an idea of the severity of potential interventions and side effects. This goes both ways, as we need to be careful to be honest and realistic about the information we present. Always provide evidence based information and steer clear of exaggeration, minimization and scare tactics.
Perceived Susceptibility
Susceptibility is the hardest one to address. As I mentioned in my earlier blog post, once a person has experienced a loss or complication – in themselves or a loved one – there is a loss of innocence, and it is difficult to get past the previous experience. They don't need to be "talked out" of feeling susceptible, but childbirth educators can often help families navigate the fear they may feel. Validation of their fears, suggestions for coping with fears, and potentially referring to counseling are ways to assist families who may be paralyzed by fear. It is important to be aware of how your own experiences affect your approach to providing unbiased information to your students and clients.
Self-efficacy
Childbirth educators can do wonders for helping class members build their self-efficacy. One simple activity that I have found builds self-efficacy is to ask pregnant people to list two times in their life when they have achieved something that did not come easily, and two times they saw their partner do the same. They then share their lists with each other or even with the class. I ask them to describe to each other or write down the personal traits that helped them accomplish this difficult task.
Another way to build self-efficacy in your classes is to provide lots of opportunity for families to practice the skills and coping tools they may find helpful in labor, multiple times during their childbirth class, in a variety of situations. This repetition helps to build confidence in their ability to remember and use the techniques when they are in labor. You can build on techniques you've previously taught. If you taught a slow deep breathing technique last week, encourage pregnant people to practice it during later parts of their class when you teach massage or positions.
Cues to Action
As childbirth educators, we may be able to provide some cues to action. Giving families the assignment to prepare a birth plan before your next class can be one such cue to action. You can also help partners to learn to provide these cues to action as well. Reminders in labor to ask for time to make decisions can be a cue to review all their options and use the "BRAIN" tool to make decisions. As a childbirth educator, it is key to remember that you cannot force them take action, you can only provide the pregnant person and their partner with cues they can choose to act on – or not.
Summary
Having a good understanding of the perceptions and factors influencing families' decision making can help us as childbirth educators and birth professionals to create effective classroom activities. We can also use this information to improve communication and personal interactions with the families we work with. When childbirth educators can provide their students with tools for making the decisions that are best for them, families can move confidently through any decisions that they may face throughout the childbearing year and beyond.
In closing, it is always good to remember the Caregiver's Motto taught by Penny Simkin:
"A person has a very good reason for…
…Feeling this way
…Behaving this way
…Saying these things
…Believing these things…"
How do you help the families that you work with to make decisions? What activities do you find build self-efficacy and confidence in your classes? How do you best apply the Health Belief model to your interactions with students and clients? Please share your experiences in the comments section. – SM
About Andrea Lythgoe
Andrea Lythgoe is a doula, hospital-based Lamaze childbirth educator, birth photographer, and former instructor at the Midwives College of Utah. She is the author of the website UnderstandingResearch.com where she aims to help those just beginning to read research to understand the language of research. Her interest in research started while attending the University of Utah, where she made ends meet by working on a large randomized controlled trial and earned a degree in community health. Andrea served on the Board of Directors for the Utah Doula Association for over 10 years. She lives and practices in the Salt Lake City, Utah area. Andrea can be reached through her website.