By Christine H. Morton, PhD
Today, Christine H. Morton, PhD, takes a moment to highlight a just released infographic and report by the California Healthcare Foundation that clearly shows the significance of birthing in a hospital that is "low performing." This is a great follow up post to "Practice Variation in Cesarean Rates: Not Due to Maternal Complications" that Pam Vireday wrote about last month. Where women choose to birth really matters and their choice has the potential to have profound impact on their birth outcomes. – Sharon Muza, Science & Sensibility Community Manager.
An Internet search of "A Tale of Two Births" brings up several blog posts about disparities in experience and outcomes between one person's hospital and subsequent birth center or home births. Sometimes the disparity is explained away by the fact that for many women, their second labor and birth is shorter and easier than their first. Or debate rages about the statistics on home birth or certified professional midwifery. Now we have a NEW Tale of Two Births to add to the mix. However, this one compares the experiences of two women, who are alike in every respect but one – the hospital where they give birth.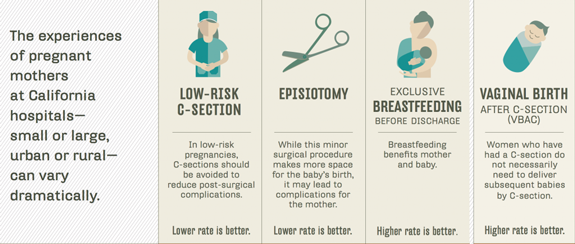 The California HealthCare Foundation has created an infographic drawn from data reported on California's healthcare public reporting website, CalQualityCare.org. In this infographic, we meet two women, Sara, and Maya who are identical in every respect – both are the same age, race, and having their first baby, which is head down, at term. However, Sara plans to have her baby at a "high-performing" hospital while Maya will give birth at a "low-performing" hospital. "High performing" is defined as three or more Superior or Above Average scores and no Average, Below Average, or Poor scores on the four maternity measures. "Low performing" is defined as three or more Below Average or Poor scores on the four maternity measures.
Based on the data from those hospitals, the infographic compares the likelihood of each woman experiencing four events: low-risk C-section, episiotomy, exclusive breastmilk before discharge, and VBAC (vaginal birth after C-section) rates (the latter one of course requires us to imagine that Sara and Maya had a prior C-section).
First-time mom Sara has a 19% chance of a C-section at her high-performing hospital, while Maya faces a 56% chance of having a C-section at her low-performing hospital. These percentages reflect the weighted average of all high- and low- performing hospitals.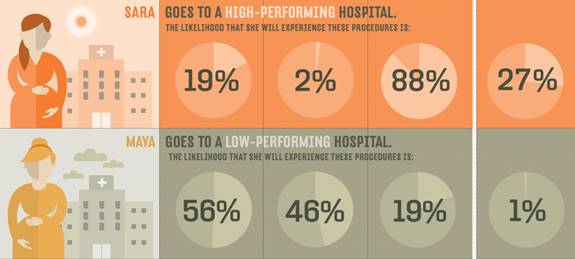 The readers of this blog will no doubt be familiar with these quality metrics and their trends over time. Two of these metrics (low risk C-section and exclusive breastmilk on discharge) are part of the Joint Commission's Perinatal Care Measure Set. The other two – episiotomy and VBAC are important outcomes of interest to maternity care advocates and, of course, expectant mothers.
Hospitals with >1100 births annually have been required to report the five measures in the Joint Commission's Perinatal Care Measure Set since January 2014, and these metrics will be publicly reported as of January 2015.
Childbirth educators can help expectant parents find their state's quality measures and use this information in selecting a hospital for birth. In the event that changing providers or hospitals is not a viable option, childbirth educators can teach pregnant women what they can do to increase their chances of optimal birth outcomes by sharing the Six Healthy Practices with all students, but especially those giving birth in hospitals that are "low-performing."
You can download the infographic in English and en Español tambien!
About Christine H. Morton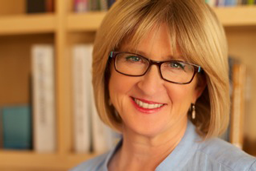 Christine H. Morton, PhD, is a medical sociologist. Her research and publications focus on women's reproductive experiences, maternity care advocacy and maternal quality improvement. She is the founder of an online listserv for social scientists studying reproduction, ReproNetwork.org. Since 2008, she has been at California Maternal Quality Care Collaborative at Stanford University, an organization working to improve maternal quality care and eliminate preventable maternal death and injury and associated racial disparities. She is the author, with Elayne Clift, of Birth Ambassadors: Doulas and the Re-emergence of Woman Supported Childbirth in the United States. In October 2013, she was elected to the Lamaze International Board of Directors. She lives in the San Francisco Bay Area with her husband, their two school age children and their two dogs. She can be reached via her website.